Feature Story
Restoration Gives 1894 Apartment Buildings New Life
Jeffris Flats Apartments, Janesville, Wisconsin
Enlarge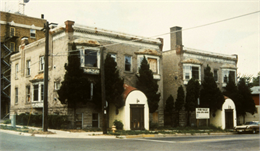 Jeffris Flats Apartments
Janesville, Wisconsin. YWCA prior to rehabilitation. View the property record: AHI 27780
When the Janesville YWCA wanted to provide housing for victims of domestic abuse, it came up with a creative way to help finance its endeavor. Partnering with a local bank, they decided to rehabilitate a pair of much-abused apartment buildings. The bank would get the benefit of the preservation tax credits, while the YWCA would be able to provide apartments and daycare center.
Enlarge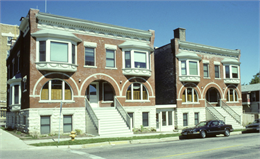 Jeffris Flats Apartments,1994
Janesville, Wisconsin. YWCA after rehabilitation. View the property record: AHI 27780
The 1894 buildings in Janesville's West Milwaukee Street National Register Historic District were in poor condition. The vestibules had been altered to have snout-like entries. These vestibules were functional but replaced the grand entry stairs and hid distinctive central arches. Initially they intended to keep the vestibules for practical reasons, but the promise of much more attractive buildings when restored to their original appearance was compelling. So the vestibules were removed and new steps built. The steps have proved popular with residents as a place to sit and visit with neighbors.
Another challenge was to make it accessible for people using wheelchairs. A small addition linking the two buildings provided the solution. It features a new ramp providing access to the apartment building on one side, and the daycare center on the other.
Read more about the history of Janesville's Jeffris Flats Apartments in the historic property records on our website.