Historical Essay
Alfred A. Bish - Image Gallery Essay
Life and Lumbering in Chippewa Falls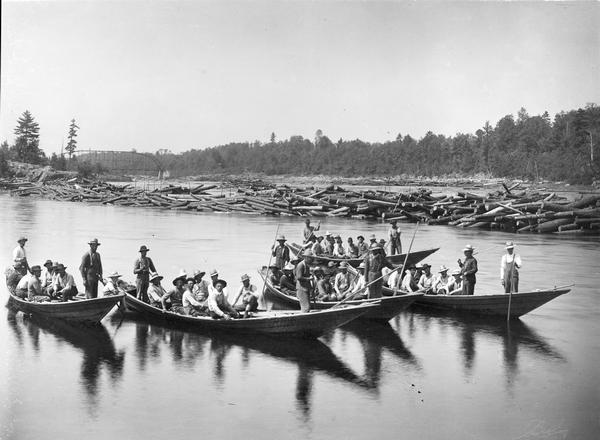 Loggers in Bateaux, 1900
Log driving crew on river in five bateaux. Chippewa Falls, Wisconsin. View the original source document: WHI 2208
A remarkable collection of digitized historical photographs by Alfred A. Bish documents life in turn-of-the-20th-century Chippewa Falls, with particular attention to the area's lumbering industry and the landscape of the region. Additional photos in the collection depict the area's many mills and factories, as well as area residents posing for Bish's cameras in his studio. The Society's collection contains 335 photos by Bish, including glass plates and original prints, with 150 of them now online.
Documenting Change and Growth in a Northwoods Lumbering Town
Enlarge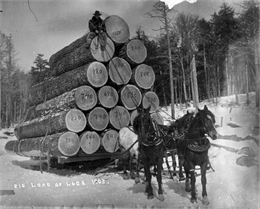 Big Load of Logs, 1903
Chippewa Falls, Wisconsin. View the original source document: WHI 82796
Since the fortunes of Chippewa Falls were closely tied to the logging industry, Bish recorded many scenes from logging camps as well as log drivers and log jams on the river. Horse-drawn sleighs heavily laden with logs, often stacked 10 or 12 feet high, were a favorite subject. He also took some striking photos, like the one above, of log drivers paddling downriver in bateaux, long narrow boats that the drivers steered alongside the logs to help keep them under control.
Lumber mills were also naturally a favorite subject. There were many in the area, powered by the swift-flowing Chippewa River, including the often-photographed Big Mill, the Chippewa Lumber and Boom Company, and the Stanley Manufacturing Company. Other local factories Bish photographed include the Leinenkugel Brewery, still in existence today, the Chippewa Falls Woolen Mill, and the Boone Tire Factory. In these last two factories Bish recorded the activities of factory laborers, including female garment workers, at a time when the labor movement to improve working conditions for these employees was beginning to gain steam.
Bish also recorded much of the civic infrastructure of Chippewa Falls, photographing street scenes, retail stores, public parks, churches, municipal buildings, and equipment such as the city's new steam-powered fire engine. When the Chippewa Times newspaper published annual book supplements in the early 20th century to promote the businesses and amenities of the area, it asked Bish to provide the photographs to record this civic pride.
Background of Alfred A. Bish
Enlarge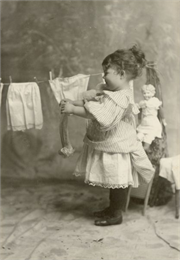 Margery Bish Hanging Clothes on a Clothesline, 1890
Alfred A. Bish's young daughter. View the original source document: WHI 4110
Bish came to Chippewa Falls in 1887, probably from his home state of Indiana. The city, which had a population of about 12,000 in 1900, is located on the Chippewa River in heavily wooded northern Wisconsin. It owed its rapid growth and prosperity during that time to the then-thriving lumbering industry. Bish quickly established his reputation as a photographer with his striking images of lumbering activities, local businesses and the northern Wisconsin landscape.
In 1888 Bish married Margaret Pierce. In 1893 their only child, daughter Mary Margaret (called Margery), was born. Naturally, Bish took many photographs of his family. Those of Margery are particularly well composed and moving. Through Bish's photographs we see Margery grow from a toddler playing with dolls to a young woman graduating from high school.
In 1894 Bish expanded his photographic activities by opening his own photography studio on Central Street and developing a successful portrait business. He became respected as a prominent local citizen and the proprietor of what the Chippewa Times in 1900 called "one of the best businesses of its kind in northern Wisconsin." Bish and his wife later moved to Oklahoma City, where he continued his photography business with the assistance of his wife. Margery stayed behind in Wisconsin, marrying Clyde Bowman, a faculty member at The Stout Institute in nearby Menomonie, Wisconsin.
Portraiture and Daily Life
Enlarge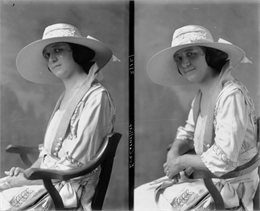 Eva Cornellier
Chippewa Falls, Wisconsin. Two studio portraits of Eva Cornellier presented side by side on the same photographic plate. View the original source document: WHI 82419
Bish spent much of his time taking skillful portraits of individuals and groups, both in his studio, which was furnished with a variety of artistic backdrops, and in the homes of his subjects. He was also in demand as a wedding photographer and photographer of other special events such as anniversary parties. In the early 20th century Bish branched out into advertising photography, producing images of such subjects as children modeling clothing produced by the Chippewa Falls Woolen Mill.
The activities of daily life for ordinary people in Chippewa Falls did not escape Bish's notice. He recorded ladies' parties, men's hunting expeditions, members of the Ojibwe Indian tribe canoeing, and people going for country drives in their buggies. Such photographs provide a fascinating glimpse into the life of a small American town at the turn of the 20th century.
Note: See information on Visiting the Library and Archives. See the catalog listing for the Alfred A. Bish collection.
View the Gallery