Field Trip or Tour
'Explore the Era of Stagecoach Travel' Field Trip
Wade House - a historic site
During a tour of the Wade House historic site, students will visit and engage with staff at four components:
1860s Wade House stagecoach inn
Wesley W. Jung Carriage Museum, home to Wisconsin's largest collection of horse-drawn vehicles
Dockstader Blacksmith Shop
Herrling Sawmill, powered by the Mullet River
Enlarge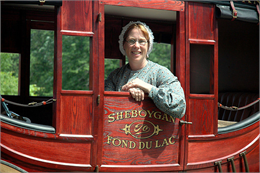 Wade House in Greenbush, WI
Authentically costumed historical interpreters guide your students through the stagecoach inn, which once served weary travelers along the Plank Road.
Program Details
Attribute
Description
Length
3 hours
Availability
Availability: Monday – Friday, early May - Oct
Maximum group size
200
Location
Wade House, W7824 Center St, Greenbush, WI, WI 53023
Lunch
Bag lunches may be brought in; a shaded picnic area with tables is available for seating. Indoor seating is also available if we have inclement weather. Beverages and snacks may be purchased on site.
Grade Level
While Wade House field trips are geared to the 4th grade curriculum, we welcome numerous student groups throughout the season ranging from kindergarten to college.
Cost
$4.50 per student

Free adult admission for every 15 students

$8.70 per each additional adult admission
Reserve Your Field Trip
Call 920-526-3271 or email us in advance to reserve your field trip.
Please be prepared to tell us: desired date and time; name of school; contact information; number of students and adults; any special needs; lunch requirements; and time constraints.
About Wade House
Return to the time of stagecoach travel and see a community where Yankee refinement met the Wisconsin wilderness.
Directions, Transportation, Parking
To get directions, parking maps, and more see Location, Directions, Transportation to Wade House.
Learn More
Learn more about Wade House field trips.