Historical Essay
American History Through Christmas Cards - Image Gallery Essay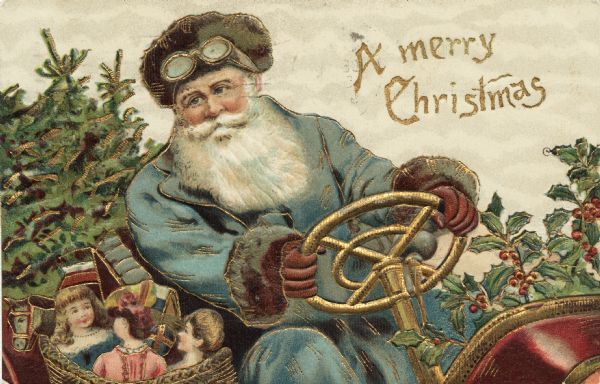 A Merry Christmas, 1910
View the original source document: WHI 79944
Just in Time for the Holidays
Americans have been exchanging holiday cards for more than 150 years, and thousands of them have made their way into correspondence donated to the Wisconsin Historical Society. For the last several decades, archivists have set aside especially beautiful or evocative cards in a separate collection that now fills eight large boxes. Just in time for the holidays, they have scanned and posted more than 200 of the most interesting Christmas cards online.
Christmas Cards Reflect Their World
Enlarge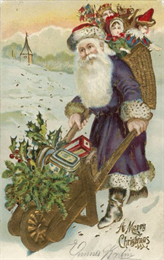 A Merry Christmas, 1907
Christmas postcard sent to Miss Betty Marshall of Madison from Milwaukee. Written in German. View the original source document: WHI 37886
The earliest cards online date from 1845 and are rather humble, but by the 1870s they have become ornate and colorful. Animals, families at the hearth and winter scenes predominate, and their greetings are short and simple. At the turn of the 20th century, Santa Claus becomes a standard motif on Christmas cards and always symbolizes warmth and cheer. But those were also the years of Jim Crow segregation, and some cards convey their good wishes through racist stereotypes that astonish us today.
During World War I, exchanging cards with soldiers was considered a good way to boost morale. Many combined patriotic and religious symbolism, while others appealed for funds to support war orphans or refugees. Cards sent during World War II are quite different, both in spirit and appearance. Many World War II Christmas cards make no reference to the war but instead express a longing for peace and an underlying optimism. That same feeling underscored hit songs such as "I'll be Home for Christmas."
In postwar America, it seemed as if everyone wanted to have their own unique holiday card. Families printed idealized photos of themselves, businesses combined season's greetings with advertising, and political organizations lobbied for support. During the turbulent 1960s even the Chicago Seven and Black Panthers sent out cards ("Merry Christmas to the People," reads one). In the 1970s a jovial black Santa with a bag full of presents smiles under his traditional red hat, which is decorated with the flag of Pan African Unity.
Famous and Infamous
The cards shown online include friendly greetings from presidents Dwight Eisenhower, John F. Kennedy and George W. Bush. Cards sent by governors Phil La Follette, Warren Knowles, Martin Schreiber, Lee Dreyfus and Tommy Thompson have been preserved, as well as ones from senators Ted Kennedy and Herb Kohl. But so, too, are pleasantries from Huey P. Newton ("Have a Revolutionary New Year") and Alger Hiss, who sent his deep affection to the editor of a communist-leaning journal in 1928.
Always Evocative
Browsing these Christmas cards is more than merely a nostalgic trip down memory lane. Because they have been so widely shared for so many decades, they are a mirror to America — not a faithful one, but a warped funhouse mirror reflecting the romanticized images that have consoled or inspired us for five generations.
View the Gallery
View all Christmas cards in the gallery
Browse the Images