Historical Essay
Wisconsin Troops Help Capture Jefferson Davis
Enlarge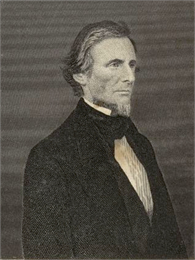 Jefferson Davis
President of the Confederate States of America. View the original source document: WHI 73376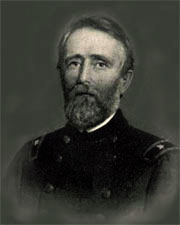 Lt. Col. Henry Harnden, 1900
1st Wisconsin Cavalry Commander. Source: Sons of Union Veterans of the Civil War.
When the Confederate capital of Richmond, Virginia, fell on April 2, 1865, its government fled toward Texas. Union commanders sent the 1st Wisconsin Cavalry in pursuit with orders to capture Confederate President Jefferson Davis. Corporal Benjamin N. Castle of Company C recalls setting out from Macon, Georgia. His commanding officer, Col. Henry Harnden describes what happened when the troops captured Davis near Irwinsville, Georgia, on May 10, 1865.
From Original Text: [Castle:] In the morning [May 8] we fed our horses and were drawn up into line. Then Colonel Harnden made known the purpose of our march. Usually a private knows nothing of what is going on and is only supposed to obey orders. Colonel Harnden said: "We are going after Jefferson Davis. We expect to get into a fight. If there is a fight it will be to the death, because Davis must not be allowed to escape. If there is a man here who doesn't care to go on, he can go back to Macon now." Not a man left the regiment.
[Harnden:] We lay down to rest for a time, but before the break of day (May 10) were again in the saddle. Hearing that a party with wagons was camped a short distance from the town, we had marched out toward it, guided by a negro. [In the dark, Harnden's men and soldiers from the 4th Michigan Cavalry exchanged gun shots.
In this unfortunate affair, two of the Michigan men were killed, and one officer and several men wounded. Of the Wisconsin men, three were wounded but none killed. We lost a number of horses. Col. Pritchard [of the 4th Michigan] and I rode together into the Davis camp, which was just across a little swale, only a few rods from where our skirmish took place. The first person we saw there was John H. Reagan, the postmaster of the Confederacy, lately United States senator from Texas, who said to me, "Well, have you taken the old gentleman at last!" "Who do you mean?" "I mean President Davis." "Please point him out." "There he stands," said Reagan, pointing to a tall, elderly, and rather dignified looking gentleman, standing a short distance away. We rode up, dismounted, and saluted, and I asked if this was Mr, Davis? "Yes," he replied, "I am President Davis." At this the soldiers set up a shout that "Jeff" Davis was captured.
View the Original Source Documents
These documents have been scanned.
How to Cite
For the purposes of a bibliography entry or footnote, follow this model:
Eau Claire Leader, October 18, 1927, and the Milwaukee Sentinel, August 21, 1921