Historical Essay
A Summer Place - Image Gallery Essay
Photographs from the Apostle Islands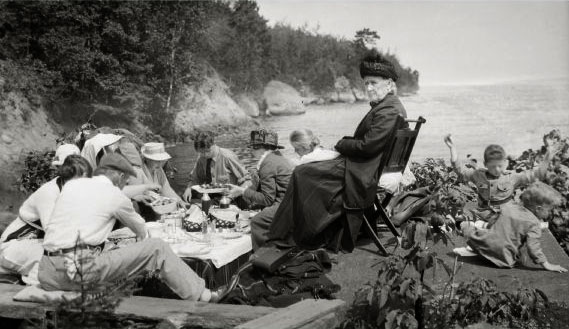 Family Gathering on Basswood Island, 1916
Apostle Islands, Wisconsin. View the original source document: WHI 1973
The Apostle Islands are the northernmost location in Wisconsin. Comprising 22 islands, they are located just off the tip of Bayfield Peninsula in the waters of western Lake Superior. Madeline Island is the largest and only island with year-round residents. La Pointe, the only town on Madeline Island, is Wisconsin's oldest permanent settlement. The Society has a rich collection of images that document the history of the area.
The Apostle Islands have a long and storied history of human occupation. For centuries, numerous nomadic woodland Indian tribes made the islands their home. The Ojibwe is the only tribe that still holds claim to this area. When Europeans arrived in the 17th century, the Apostle Islands became a center for Lake Superior fur trade operations that lasted nearly 200 years. When the fur trade declined in the early 19th century, commercial fishing developed in its place. It continues today, though at a much diminished level. Sandstone quarrying and logging were also important industries during the 1800s and early 1900s. But, since the beginning of the 20th century, tourism has been the most prominent activity on the islands.
Summer residents and tourists began finding refuge on the islands as early as the mid-1800s. They were searching for relief from the heat of the cities, and to enjoy the boating, fishing, and beauty of the area. By the early 1900s Madeline Island had received national acclaim as a healthful and relaxing summer retreat, an reputation it maintains to the present day. A particularly charming collection of photographs by Elizabeth Abernathy Hull portrays island life for summer residents in the 1910s.
In 1970, largely through the efforts of Gaylord Nelson, 20 islands and 2,500 acres on the tip of the Bayfield Peninsula were designated as the Apostle Islands National Lakeshore. In 1986, Long Island was added to the designation, putting 21 islands under the direction of the National Park Service. Madeline Island is the only Apostle Island not designated as part of the Apostle Islands National Lakeshore.
Leo and Bella Capser of St. Paul, Minnesota, began summering on Madeline Island in 1903. In 1955 they began efforts to establish a museum there, enlisting the assistance of both year-round residents and summer cottagers, specialists and amateurs. The Capsers opened Madeline Island Historical Museum on June 15, 1958. A decade later they deeded the property to the Wisconsin Historical Society and it became the Madeline Island Museum historic site.
View the Gallery
View all Apostle Island images in the gallery
Browse the Images
---
Learn More
A Summer Place: Elizabeth Hull's Madeline Island Photo Album
Wisconsin Magazine of History article by Vikie Lock
What Do You Do Up Here? Tales of a Lake Superior Lighthouse Keeper
Wisconsin Magazine of History article by Jim Feldman
Book by Hamilton Nelson Ross
Madeline Island and the Chequamegon Region
Book by John O. Holzhueter