Field Trip or Tour
Stonefield Field Trip
Stonefield - a historic site
Students touring Stonefield will:
Participate in lessons at a one-room schoolhouse
Visit a country store and learn about the products that were sold there
Tour the Wisconsin State Agricultural Museum
Enlarge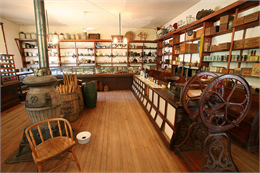 Stonefield in Cassville, WI
Explore a variety of entertaining and educational items related to Stonefield and the early history of Wisconsin.
Program Details
Attribute
Description
Length
Two hours
Availability
May 1 - early Oct
Maximum group size
10-90 students. Large groups are divided into sub-groups
Location
Stonefield, 12195 Hwy VV, Cassville, WI 53806-0125
Lunch
Bag lunches may be brought in. A picnic area with tables is available for seating. Snacks are available in the Visitor Center.
Grade Level
K - 12
Cost
$3.50 per student

Free adult admission for every 10 students

$7.25 per additional adult admission
Reserve Your Field Trip
To reserve a field trip, call 608-725-5210 or email us.
About Stonefield
Stonefield celebrates Wisconsin's rich agricultural heritage. It is located on the grand summer estate of Wisconsin's first governor, Nelson Dewey. Learn about the rise of turn-of-the-century dairy farming and the development of modern farm implements, including tractors, reapers and threshing machines. Experience the sights and sounds of the railroad — the era's most important transportation. Explore Stonefield today to see what made the state become "America's Dairyland."
Directions, Transportation, Parking
For mor e information, please visit the Location, Directions, Transportation web page.
Learn More
Learn more about Stonefield field trips.