Historical Essay
Adolf Hoeffler's Pencil Sketches of 1852 Wisconsin - Image Gallery Essay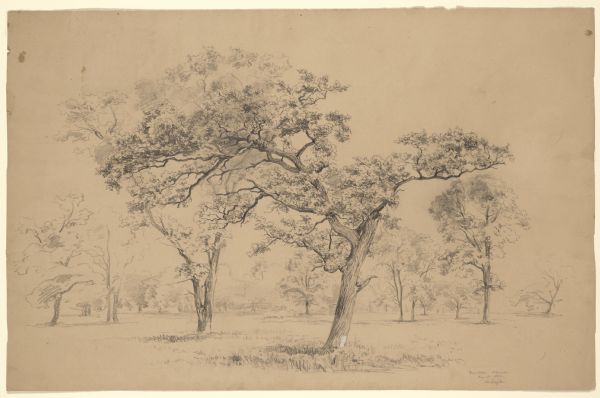 Burr Oaks, 1852
Madison, Wisconsin. View the original source document: WHI 31186
This compelling collection of 16 pencil sketches depicting the early settlement landscape of southern Wisconsin is the work of German-born artist Adolf Hoeffler, who painted, drew and etched German, Italian and American landscapes. He made these detailed and lovely sketches in 1852. They provide a glimpse of the southern Wisconsin oak savannah that was then the most common landscape but today is nearly nonexistent due to human settlement, agriculture and fire suppression.
Depictions in the drawings include Madison, the Milwaukee harbor, Arena, Cross Plains, Lake Kegonsa, Giles Court House, and Spirit (or Devil's) Lake. There are also depictions of the Mississippi River and Fort Snelling, Minnesota. The detailed pencil drawings usually show a sweeping expanse of landscape with the human-built environment diminutively enfolded within it but they also include closer studies of oak trees in the savannah setting. These vivid and compelling landscapes invite the viewer to imagine stepping into the majestic scenery of the past.
Graceful Depiction of Trees Amid Romantic Landscapes
Enlarge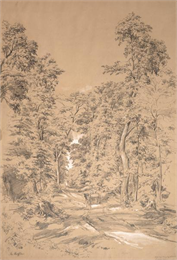 Road at Madison, 1852
Madison, Wisconsin. Pencil drawing by Adolf Hoeffler of a dirt road through the woods with added white highlights. View the original source document: WHI 31180
The pencil sketches are an example of the German romantic style of landscape that advocated working from life and imbued the natural setting with emotion. In contrast to earlier European depictions of natural features, the romantic landscape is the event, not background scenery for a larger story. Hoeffler's particular strength and focus as a romantic artist was his illustration of trees. In this collection, his careful and graceful depiction of oaks enchants the viewer.
Enlarge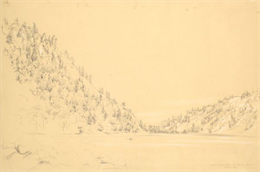 Spirits on Devil's Lake, 1852
Baraboo, Wisconsin. Hoeffler's pencil sketch of the lake from the shore flanked by steep tree-covered hillsides. View the original source document: WHI 81526
About Adolf Johann Hoeffler, 1822-1888
Born in Frankfurt, Germany, in 1825, Adolf Hoeffler was the son of the painter Herinrich Hoeffler. Hoeffler became an artist himself, studied art in Germany and toured Europe before traveling to America in 1848. While in America, like many artists of the time period, he made his living painting portraits and sketched the scenery in his spare time. His American travels took him from New Orleans to the Midwest, Ohio, Pennsylvania, Maryland and New York. He also visited Cuba before returning to Europe in 1853. Back in Europe, he published illustrated accounts of his travels in Harper's Magazine, traveled the continent and taught art in Frankfurt. Today he is remembered as a painter, sketch artist and etcher of German, Italian and American landscapes.
View the Gallery
View all images in the Gallery
---
Learn More
View Hoeffler's Sketches and Watercolors of Minnesota Scenes
Digitized images from the collections of the Minnesota Historical Society.
View Hoeffler's Illustrated Account of His Travels in Minnesota (PDF, 1.6 MB)
Edited and with a forward by John McDermott. Available from the Minnesota Historical Society
Read 'Sketches of the Upper Mississippi River'
Harper's Magazine, January 1853, pages 161-174. Available on Google Books.