Historical Essay
Ephraim Burt Trimpey, 'Photo Artist' from Baraboo - Image Gallery Essay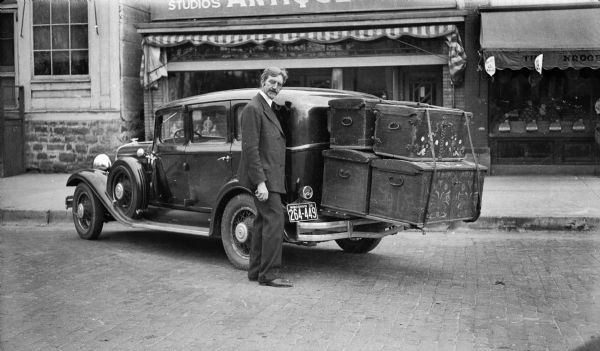 Self-Portrait of Photographer with Car
Photographer Ephraim Burt Trimpey stands beside an automobile with a 1935 Wisconsin license plate. Four large (possibly Norwegian) trunks with decorative painting are tied to the rear bumper. The car is parked in front of the Trimpey Studios and Antique Shop, which is identifiable by the distinctive Prairie Style door. Dolls in the shop window are visible through the windshield of the car, and belong to the photographer's wife, Alice Kent Trimpey. View the original source document: WHI 73762
This gallery contains over 250 images created by Baraboo photographer Ephraim Burt Trimpey. His work covers a broad spectrum of photographic styles and subjects ranging from portraits and documentary photos to city scenes and landscapes. A self-described "photo artist," Trimpey studied photography in the early years of the 20th century. Some of the portraits in the collection have the sepia-tinted, painterly quality of that era. Others, which date from the 1920s through the '40s, appear quite modern, with sharp focus and contrast.
Enlarge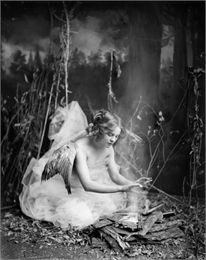 Angel in the Woods, 1930 ca.
A model posed as an angel sits on the ground in front of a sylvan backdrop, warming her hands over a fire. View the original source document: WHI 72044
Trimpey was acutely attuned to style and fashion, both historic and contemporary. There are anachronistic images of models (including Trimpey and his wife, Alice Kent Trimpey) posing in clothing from the mid-19th century with antiques selected from their extensive collection. Alice's antique dolls, in period dress and carefully posed tableaus, appear in a series of hand-tinted photographs. Other images record Baraboo businesses stocked with the most up-to-date appliances and furnishings.
Setting Up Shop in Baraboo
In 1910 Trimpey established his photographic business at 407-½ Oak Street in Baraboo, in a studio previously occupied by Arthur Johnson. In 1919 nearby construction threatened to block the studio's skylight, and Trimpey moved to 520 Oak Street. That second-story space with skylight had been photographer Sim Mould's studio since 1887.
In 1921 Trimpey put up an attractive new two-story building at 128 Fourth Avenue. The building, designed by William E. Smith, an associate of Frank Lloyd Wright at Taliesin, housed the Trimpey's antique shop as well as the photography studio. It had a landscaped wooded area, complete with a small stream, in the back. Trimpey worked from that studio until his death in 1948.
Through his photographic work and antique business, Trimpey was acquainted with the movers and shakers of southern Wisconsin. He photographed Pulitzer Prize-winning author and Portage native Zona Gale. Sauk Prairie author August Derleth and Jennie Rooney, an acclaimed trapeze artist and performer with the Ringling Brothers Circus, were also clients.
The Christian Science Monitor and the Milwaukee Journal published several Trimpey photographs. Those newspapers also ran articles on Alice Trimpey's doll collection. Mrs. Trimpey published two books about her collection, "The Story of My Dolls" (1935), with a forward by Zona Gale, and "Becky, My First Love" (1946). Her husband's photographs illustrated both books.
Ephraim Burt Trimpey: A Brief Biography
Enlarge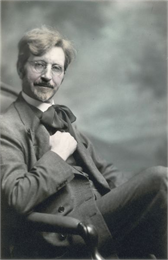 Ephraim Burt Trimpey
A seated self-portrait of the photographer. He wears eyeglasses, and a suit with vest and floppy cravat. View the original source document: WHI 71208
Trimpey was born in Somerset County, Pennsylvania, in 1878. After completing normal school and teaching for two years, he studied photography in Uniontown, Pennsylvania. He worked in various small cities in Pennsylvania and lived briefly in Georgia. In 1905 he moved to Anderson, South Carolina. It was there he advertised himself as a "photo artist."
Trimpey met Alice Kent at a party, possibly in Pennsylvania or New England. Members of the Kent family were early Yankee settlers on the Sauk Prairie, and Alice had been raised in Baraboo. Despite a significant age difference (Alice was some 20 years older), the couple married in March 1910 in Chicago and made Baraboo their home.
Ephraim Burt and Alice Kent Trimpey died within a year of each other, in 1948 and 1949. They are buried in the Sauk Prairie Cemetery.
View the Gallery
View images of Alice Trimpey's dolls