Historical Essay
Falk Corporation - Image Gallery Essay
Images of a Milwaukee Manufacturing Powerhouse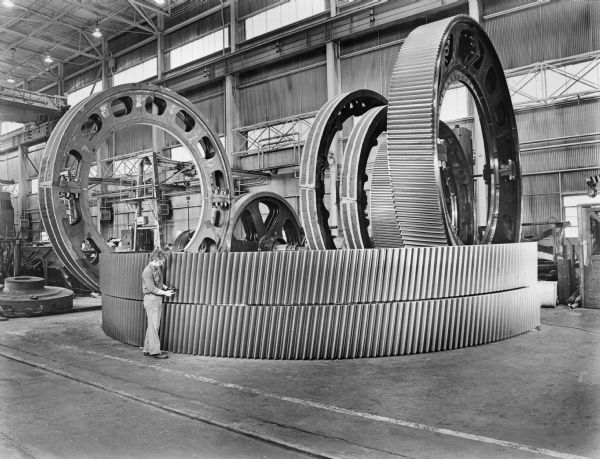 Manufacturing of Ring Gears, 1979
Milwaukee, Wisconsin. Original Falk caption reads, "General run of the mine large ring gears in various stages of manufacture waiting for subsequent machining operations. This series taken for possible use as Glamor "Large Gear" illustrations." Male employee in photograph is James Clark. View the original source document: WHI 50787
This gallery contains over 270 images of Falk Corporation factories and machinery from the 1950's to the 1980s in Milwaukee, WI. Once known almost exclusively as a manufacturing and brewing powerhouse, Milwaukee owes at least part of its reputation to the Falk Corporation. Long before the Falk name became synonymous with the manufacturing of industrial gears, the company was known as a Milwaukee brewery established by Franz Falk and Frederick Goes. The site that Falk and Goes chose for their brewery, named the Bavaria Brewery, was a narrow strip of land in the Menomonee Valley, which is the location of Falk's main plant today.
A Visual History
Enlarge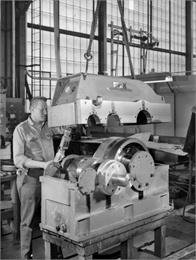 Employee at Test Stand, 1966
Ron Kudlewski, a Falk employee, attends to the test stand for large motors in the High Speed Department. View the original source document: WHI 50400
There are only a handful of early images of operations prior to World War I, including pictures of sand casting, foundry work, streetcars and group portraits of workers. The bulk of the images, ranging from the 1950s through the 1980s, were taken by Photo Concepts of Milwaukee, Wisconsin. Pictures consist of interiors of the plant and factory production areas, as well as workers including machinists, welders and office workers. Of course, also represented in this gallery are many photographs of gears, both large and small. Not included are close-ups of products used in promotional literature, or details of failed parts, or head-and-shoulder portraits of company employees. These are all available in the company archives, located in Milwaukee.
Many of the descriptions of the photographs include technical data about reduction ratios, power transference, weight, torque, average life, etc. which may prove valuable to viewers. The photographs are visually compelling and help to serve as a visual reminder of Milwaukee's role as a center for industrial manufacturing in the world.
The Company's History
Following a devastating fire that destroyed much of the brewery in 1892, the company was sold to Frederick Pabst. Falk's youngest son, Herman, took this opportunity to branch out into manufacturing, beginning with wagon couplings and then moving on to electric street railway supply, and then to a process known as "cast welding" to create a solution for the poor joints between rails. The work also included a variety of foundry work and, finally in 1910, gears.
Enlarge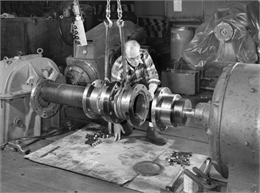 Slide Coupling, 1976
A male employee, Al Arndt, attends to a slide coupling. This particular coupling was purchased and used by Blaw-Knox. View the original source document: WHI 50689
With the introduction of electric motors into factories at this time, it became apparent that there was a need to shift away from the noisy and often dangerous system of belt drives of the 19th century. Gear-driven machines changed the face of manufacturing in the early 20th century and became the foundation of Falk's business. Their pioneering reversing gear was used to turn propellers on hundreds of ships during World War II, one of the many ways Milwaukee industry assisted in the war effort.
For the next hundred years the Falk Corporation continued to be an innovative leader in the manufacture of gears and gear trains for a wide variety of industries around the world. This success has been despite numerous setbacks to the company, including devastating fires, floods and, most recently, a large explosion in 2006 that killed three employees and injured 46 others.
In 1968 Falk became a subsidiary of Sundstrand of Rockland and later, in 2005, was sold by Sundstrand to Rexnord of Milwaukee. Throughout these business mergers and transactions, Falk has continued with its principal task of manufacturing gears.
View the Gallery
View all Falk Corporation photographs
Learn More
Wisconsin Historical Society Topics: Frederick Pabst
"Profits and Patriotism: Milwaukee Industry in World War Two," by John Gurda. Wisconsin Magazine of History, vol 78, no. 1, Autumn 1994
"The Making of A Good Name in Industry: A History of the Falk Corporation, 1892-1992," by John Gurda (Falk Corp., 1991)