Historical Essay
Johnson, Alfred Stanley
Photography was a family business for these Johnsons, with three generations of Alfred Stanleys practicing the art. Alfred Stanley Johnson, Jr. - the creator of the tall-tales postcards - was born in Waupun on January 8, 1863 to Alfred Stanley, Sr. and Elizabeth Johnson. Alfred Sr. was born in London, England on July 19, 1833 and arrived on the ship St. James in New York City on July 26, 1843 with his parents, Richard and Mercy Johnson, and four siblings. Richard and Mercy first settled in Mukwanego, Waukesha County, where they appear on the 1850 Census with children Arthur, Maria, Ann, and George. By then, Alfred, age 17, had gone to Milwaukee and was living with his oldest sister, Mercy, and her husband and their three young children, apparently apprenticing with her husband, Charles J. Smith, a machinist.
On May 4, 1854 Alfred Stanley Sr. married Elizabeth Loomis, who was born in Utica, New York on July 4, 1834, and had emigrated to Milwaukee with her parents. Their oldest daughter, Alma Althea, was born about 1855. In the June 1860 Census the family was living in White Creek, Adams County, with a second daughter, Phila M., born earlier that year; Alfred stated his occupation as "artist." Business directories show him with a photography studio in Waupun by 1865. By the 1870 Census, Alma had died (at age 6), Alfred Stanley Jr. was age seven, and Alfred Sr. was now a "photographer" by profession. But evidently photography alone didn't provide enough income, because an 1868 gazetteer for Fond du Lac County also lists A.S. Johnson as being an agent for the Phoenix Life Insurance Company of Hartford, Connecticut, for Wilcox and Gibbs' Silent Sewing Machines, and for American "Side-Opening, Moveable-Comb" Bee Hives. He and his family were living on the east side of South Madison Street — right across the street from the State Prison — just three blocks south of his "Picture Rooms" on Main Street. On May 29, 1882, daughter Phila married attorney Henry L. Hillyer; she died in 1908.
Enlarge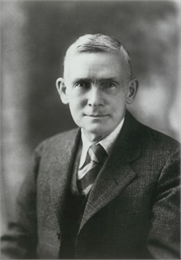 Portrait of photographer Alfred Stanley Johnson, Jr., a Waupun photographer best known for his "tall-tale" or "freak" postcards. View the original source document: WHI 46356
Alfred Stanley Jr. had joined his father in the family business by 1884 and took over running the studio in 1891. On November 11, 1891, Alfred Jr. (who gave his occupation as "artist") was married at the home of the parents of his bride, Addie Belle Viall, born March 14, 1873, daughter of William H. and Maria (Silvernail) Viall. Sadly, Addie died on April 22, 1893, apparently without having any children. On August 28, 1894, the young widower remarried at the Waupun Methodist Episcopal Church to Myrtle "Myrtie" M. Ihde, born in May 1873 in Burnett, Wisconsin, daughter of Civil War veteran Charles Ihde and his wife Crystal.
Interestingly enough, in the 1910 Census, father and son were living on the same street in Waupun, but in different counties because the city straddles the border between Dodge and Fond du Lac Counties. Alfred and Elizabeth were living at 315 South Madison Street (in Dodge County) and their son Stanley — who was now going by his middle name — and wife Myrtie were living at 315 North Madison Street (in Fond du Lac County), with their son Alfred S. (the III), who was less than a year old. The Johnson photo studio/gallery was then located at 11-17 North Madison, just off Main Street. This was only a few years after Stanley began producing his tall-tale postcards, probably assisted by his wife, Myrtie, who was listed in the 1905 State Census as being a "photographer" and the 1910 Census as a "photo retoucher." Although he apparently was known locally by the name of Stanley, he used the name "Alfred Stanley Johnson, Jr." on most of his postcards.
Stanley Johnson, Sr. died December 3, 1914, and his wife Elizabeth died December 9, 1919; both are buried in the family plot in Forest Mound Cemetery in Waupun. Stanley continued in the photo business at 11 North Madison Street — while living at 17 N. Madison — until a few years before his death on March 1, 1932. His obituary in the Waupun Leader News stated that he had "been in poor health for about 30 years," which would have been since about the time he started creating his exaggerated postcards. Perhaps the cards provided the extra income needed to pay ongoing medical bills.
Alfred Stanley Johnson III — who used the name "Alfred" or maybe just "Alf" — had begun working with his father in the photo studio by 1930, and planned to take over the business "for the present" after his father's death. Around 1939, Alfred III and his mother, Myrtie, moved to Los Angeles, California. Alfred III continued working in the photography business, incorporating a business to "process color photographs to be reproduced in printed form." Myrtie died in 1963. Alfred Stanley Johnson III died January 15, 1965.