Historical Essay
Franz Hölzlhuber's Watercolors - Image Gallery Essay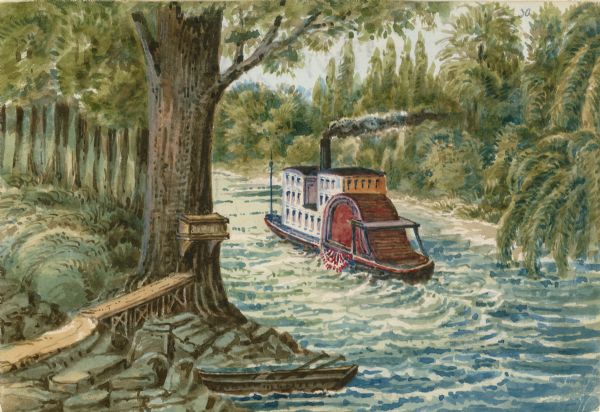 A Steamboat Trip on Fox River in Wisconsin, 1858
View the original source document: WHI 28152
Franz Hölzlhuber (1826-1898) was an Austrian visitor to the U.S. from 1856 to 1860, who stayed for a while in Milwaukee before venturing out to see the countryside. While traveling he sketched his observations and recorded descriptions on notepaper. Later some of his sketches were published in such periodicals as Harper's Monthly. After his return to Austria, he used his sketches in lectures and as sources for larger drawings.
About the Collection
In addition to the original watercolor sketches, this collection contains a set of black and white photographs of the sketches and a bound facsimile volume of color laser copies of the sketches and related news clippings. Also included are a draft and final translation (from the original German) of Hölzlhuber's description of each sketch and a copy of the pamphlet "The American Sketchbooks of Franz Hölzlhuber," printed for an exhibition of other Hölzlhuber works at the University of Kansas Museum of Art in 1959.
More About Franz Hölzlhuber
Franz Holzlhuber was born in Grundberg bei Styr, Austria, worked as a law clerk, and received some training in art and music. In later life he became director of the National Railroad Museum and was decorated with the Gold Merit Cross in Austria. [Source: Glenbow Museum, Calgary, Alberta, Canada.] Another major collection of Hölzlhuber's work - including several additional Wisconsin scenes - is held by the Glenbow Museum.
In an odd side note: American Heritage [magazine], June 1965, attributes the introduction of Linzertortes (pastries filled with fruit, usually raspberries) to America to Franz Holzlhuber: "In 1856 Holzlhuber, an enterprising young Austrian from the vicinity of Linz, started for America. He had very little money but was equipped with a zither, a sketchbook, some education in the law and in draftsmanship, and the promise of employment in Milwaukee as conductor of an orchestra. Somewhere between New York and Wisconsin, he lost both his luggage and the letter confirming his job, which, it turned out, was no longer available. Nothing daunted, he went to work as a baker-introducing (so he said) the Linzer Torte to America..."
View the Gallery
View all watercolor sketches in the gallery
Browse the Images