Historical Essay
Industrial Milwaukee - Image Gallery Essay
Images of Pawling & Harnischfeger Electric Cranes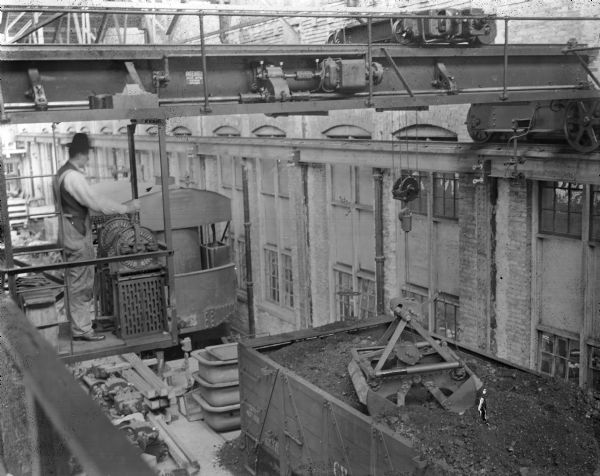 P&H Type "O" Bridge with a Type "G" Trolley, 1913
View the original source document: WHI 1966
Alonzo Pawling and Henry Harnischfeger came from humble beginnings in Milwaukee. They met while both were employed at the Whitehill Sewing Company of Milwaukee. Several years later, sensing Milwaukee's growing need for a dependable machine and pattern shop, the two combined their resources. With a simple handshake, they formed the Pawling & Harnischfeger Co. (P&H) in 1884.
The company they built would become one of the best-known and well-respected suppliers of manufacturing services to industries around the world. P&H would service 90 percent of the world's surface mines and revolutionize the machinery industry with the invention of the electric crane.
Early 20th Century Photographs
The photographs in this collection depict various types of electric cranes built by P&H in the first decades of the 20th century. The majority of photographs are not attributed to any specific photographer, though most, if not all, seem to have been taken by commercial photographers. P&H cranes were installed in industrial complexes around America, from foundries in Portland, Oregon, to sugar refineries in Brooklyn, New York. P&H serviced them all.
The photographs capture not only the cranes, but also people working, including photos of the P&H offices, the nurses' station, and the P&H product display at the Louisiana Purchase Exposition of 1904. Four retired workers provided some of the identifying features in these photos.
Also included is a sub-collection of cranes manufactured by the Milwaukee Electric Crane & Manufacturing Corporation. P&H purchased the company in 1963.
A Brief History of
Pawling & Harnischfeger Co.
Pawling and Harnischfeger moved into their first building the first week of December 1884 in the midst of a harsh Milwaukee snowstorm. Despite this daunting beginning, P&H quickly became known for its high-quality parts and machinery. Business was so good that, within a year, a second-story addition was required, followed by a third story the year after that.
In 1887, A.J. Shaw came to P&H with an opportunity that would alter the course of the business. Shaw, working for the E.P. Allis Company, had been charged with fixing a complex rope-driven traveling crane. Instead of simply fixing the crane, Shaw decided to replace the rope-driven parts with three electric motors, one for each function of the crane. Given its local renown, Shaw took his idea for his revolutionary electric crane to P&H.
Pawling and Harnischfeger maintained an active business partnership until 1911, when ill health led Pawling to retire and sell his business interest to Harnischfeger. The company became known as Harnischfeger Corporation, though the P&H trademark and logo were retained and are still in use.
Today the company maintains the ideals of perfect design and honest workmanship that began almost 125 years ago.
View the Gallery
View all Pawling & Harnischfeger Electric Crane gallery images