Guide or Instruction
About the Museum Exhibit Awards
Submission Guidelines
Enlarge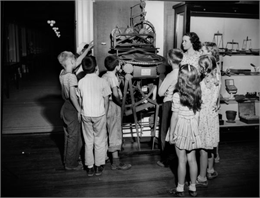 John Muir Clock, 1940 ca.
Children looking at John Muir clock in museum at The State Historical Society. View the original source document: WHI 49173
The Wisconsin Historical Society invites nominations for its Museum Exhibit Awards.
Two awards for historical exhibits on Wisconsin themes are offered each year: one for an organization with an annual operational budget of $50,000 or less and one for an organization with an annual operating budget greater than $50,000.
Eligibility
Permanent, temporary and traveling exhibits are eligible as long as they opened between January 1 and December 31 of the previous year. The entire exhibition must be organized by the applicant institution. Supplements to outside traveling exhibitions are not eligible.
Award Criteria
Reach of intended audiences
Content draws from reliable historical sources and is presented accurately, conveying the significance of the subject matter and relevance to the audience
Conservation of original materials through appropriate mounts, lighting, climate control and security
Communication of a clear message or set of ideas
Design that supports and enhances the ideas, theme, organization and tone
Due Date
March 15 (postmarked or delivered)
How to Apply
Nominations must be submitted on the nomination form (PDF, 50 KB). Please attach a narrative (not to exceed three single-spaced pages) that describes the exhibition and specifically addresses the criteria listed above, a copy of the organization's annual budget, and a selection of no more than 10 captioned images, either as color slides or jpeg files on a CD. Nominations may include supplemental material such as a copy of the final exhibition script, label text, and a one-page floor plan.
Send applications to:
Wisconsin Historical Society
Attn: Mike Hollander
816 State St.
Madison, WI 53706
For more information, contact Mike Hollander at 608-264-6555.
Awards are initially reviewed by a committee of judges appointed by the Society and then approved by the Awards Committee of the Board of Curators. The date and presentation of the award will be made at a time and location convenient for the recipient. Employees and members of the Board of Curators of the Wisconsin Historical Society are not eligible to receive awards.
Recent Award Winner
Read about the recent Museum Exhibit award winners.