Historical Essay
Kehl School of Dance - Madison - Image Gallery Essay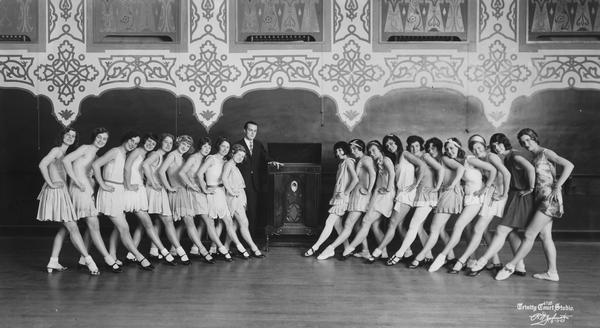 Leo T. Kehl with Dance Students, 1929
View the original source document: WHI 28788
The collection includes posed individual and group shots of Kehl students in full costume, some that feature public dance events, such as a flag drill at Henry Vilas Park in 1911 and the "living flag" demonstration on the Capitol steps in 1900.
Also included are shots of marquees advertising Kehl's Dance Troupe, the interior and exterior of the dance studio, the interior and exterior of the Capitol Bowling Alley, and images of dance and entertainment professionals.
About the Kehl School of Dance
In 1880, Professor Frederick W. "Daddy" Kehl began the Kehl School of Dance in Madison. He believed in dance as an expression of self and art, and helped create many national dance organizations to promote the education and documentation of dance. His son, Leo T. Kehl, continued the family passion and shared his love for dance with many professional dancers, movie stars, and Madisonians. His kind and gentle approach earned the respect and affection of all his students. In addition to operation of the Kehl School of Dance in Madison, Leo Kehl provided instruction in all forms of dance to teachers in Chicago and Milwaukee.
He married Genevieve Kehl and their daughters, Jo Jean, Jo Ann and Virginia continued to promote the Kehl dance philosophy of quality dance and an enriching experience. They became presidents and board members of many dance organizations.
Jo Jean Kehl Janus succeeded Leo as the Director. Jenny Kehl Hiltbrand is the current Director of the Kehl School of Dance.
View the Gallery