Historical Essay
Sound Storm - Image Gallery Essay
Wisconsin's First Outdoor Rock Festival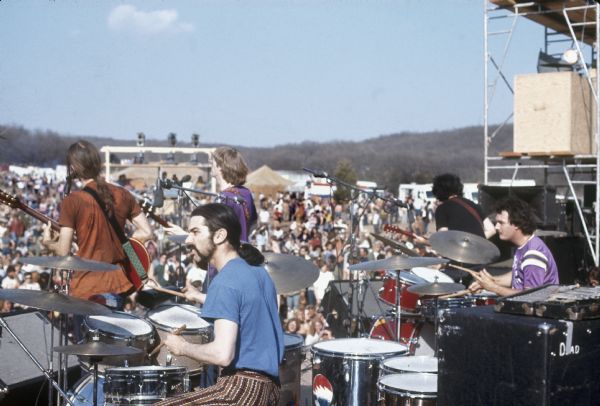 Grateful Dead Performing, 1970
Poynette, Wisconsin. Side view of the Grateful Dead on stage, featuring Bob Weir, Mickey Hart, Phil Lesh, Jerry Garcia, and Bill Kreutzmann, play on stage at the Sound Storm Festival. In the background is a large crowd and tents. View the original source document: WHI 65696
Sound Storm, Wisconsin's first outdoor rock festival, was held April 24-26, 1970, on the hillside farm of Irene York, outside the village of Poynette in Columbia County. The driving force behind Sound Storm was Pete Obranovich, better known at the time as Pete Bobo, and his friends Sandy Nelson and Bob Pulling (who took the featured photographs). Using the name Golden Freak Enterprises, Pete raised capital, signed three dozen bands, licensed vending and concession rights, hired a stage crew and sound engineers, and promoted Sound Storm coast to coast. Madison attorneys John Hanson, Roger Schnitzler and Jack Van Metre triumphed over local governments who were determined to block the festival. This gallery contains over 200 images of the Sound Storm rock festival.
Documenting the Groundbreaking, Three-Day Event
Enlarge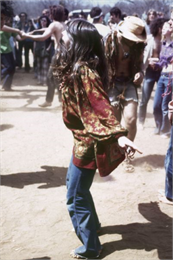 Young Woman Dancing
A young woman dances among a crowd of other audience members, April 25, 1970. View the original source document: WHI 66286
Bob Pulling, mindful that the Sound Storm rock festival would make Wisconsin musical history, documented the event photographically from start to finish. Stage and sound crews began arriving on Wednesday, April 22, and 48 hours later more than 1,000 fans had set up tents and blankets on the York farm. Music began at dusk on Friday and continued almost non-stop until after dark on Sunday. Most performers were from the Midwest, such as Chicago's Rotary Connection and Baby Huey. Rockford's Fuse, which evolved into the better-known band Cheap Trick, also played. The main event, however, was Sunday's five-hour performance by the Grateful Dead, with whom Pete had been friendly on the West Coast in the late '60s.
About 30,000 people attended Sound Storm, the majority sneaking in through the woods without paying. The Columbia County sheriff, seeing his officers exponentially outnumbered by hippies and bikers, wisely decided to ignore misdemeanors such as nudity and drug use. LSD and other psychedelic drugs were everywhere, along with marijuana and cheap, screw-top wine. Medical students staffed first aid and "bad trips" tents, volunteers from the Hog Farm commune in New Mexico helped as stage announcers, and Madison's Mifflin Street Co-op provided free food.
Throughout the weekend, ecstatic dancers whirled before the stage. When undercover officers infiltrated the crowd, Pete dropped 10,000 fliers from a helicopter urging the audience not to harm them. Fans frolicked in nearby Rowan Creek, even crowning their own "Mud King." Two members of the band Northern Comfort got married on stage. At night, the York farm sparkled with hundreds of campfires. Only a handful of injuries or arrests were reported.
Note: Read more about the Sound Storm rock festival in the Wisconsin Magazine of History.
View the Gallery