Historical Essay
A Visual Tour of Wisconsin's Fine Opera Houses - Image Gallery Essay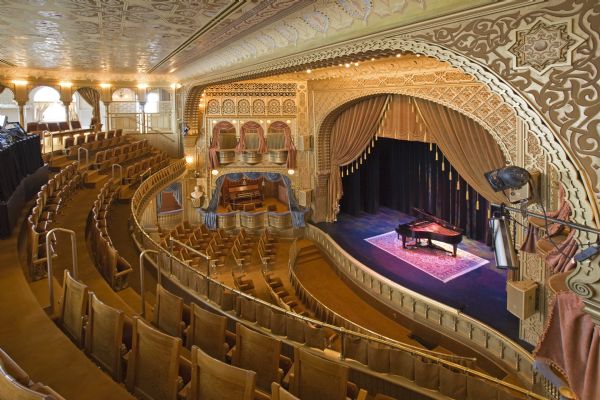 Mabel Tainter Memorial Theater, 2009
Menomonie, Wisconsin. Interior view of Mabel Tainter Memorial Theater from balcony with view of stage and organ. View the original source document: WHI 68345
Before the web, television, radio or even motion pictures, Americans consumed music and drama in their local opera houses. Although the phrase "opera house" might conjure up images of Luciano Pavarotti or Maria Callas, most hosted all sorts of live theater and community events. In the decades following the Civil War, no self-respecting city or town could do without its own opera house. Many were humble affairs supported by municipal governments or charitable societies, while others were sumptuous palaces built by successful businessmen. Every opera house "proudly celebrated the community's sense of distinction and heralded a sense of civic achievement," says Shullsburg native Brian Leahy Doyle. His recent book, Encore! The Renaissance of Wisconsin Opera Houses, presents detailed portraits of the early history and modern renovation of 10 Wisconsin theaters.
Book Project Yields Large Collection of Opera House Images
Working with architectural photographer Mark Fay of Eau Claire, Doyle assembled richly-illustrated profiles of the state's best-known and most-loved opera houses. The book includes a large collection of photographs. Historical photos came from the Wisconsin Historical Society's visual materials collections, while photos documenting repair and restoration projects often came from restoration groups. The visual highlights of the book, however, are Fay's photos depicting gleaming interiors, stately exteriors and close-ups of notable details discussed in the text.
During the first third of the 20th century, new forms of entertainment eclipsed opera houses. First, Hollywood studios replaced the velvet curtain with the silver screen, and by mid-century Americans eagerly embraced television. Opera houses around the state fell into disuse and disrepair. Luckily, over the last 20 years preservationists have saved many from oblivion, including the 10 lavishly documented in the photos listed below.
View the Gallery
View all images in the gallery
Browse the Images