Historical Essay
An Artist on the Overland Trail - Image Gallery Essay
The 1849 Sketches of James F. Wilkins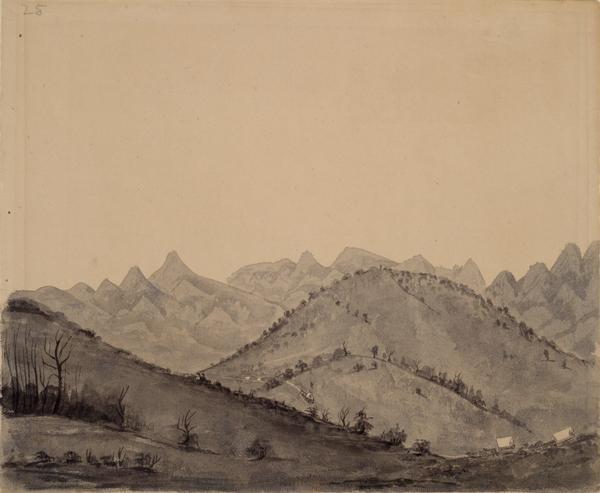 Wilkins 23: In the Black Hills, 1849
The Black Hills sketched by Wilkins on his 151-day journey from Missouri to California on the Overland Trail (also known as the Oregon Trail). View the original source document: WHI 31284
The drawings featured in this gallery are 50 of the original 200 or so created by artist James F. Wilkins on his 151-day journey from Weston, Missouri (near Independence), to the California gold fields in 1849. Wilkins captured the landscapes and events along the way with the sole purpose of creating a huge panoramic canvas from them, hoping to capitalize on the public's love of this form of entertainment.
History of the Overland Trail Sketches
Enlarge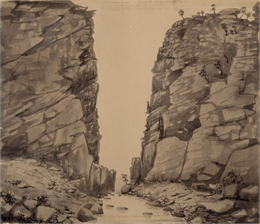 Wilkins 31: Devil's Gate, 1849
Devil's Gate in Wyoming; sketched by Wilkins on his 151-day journey from Missouri to California on the Overland Trail (also known as the Oregon Trail). View the original source document: WHI 31291
These sketches (the only ones to survive, as far as we know) were purchased in St. Louis in the early 1850s, evidently from Wilkins, for $1,000 by druggist Rudolph Adams. In 1925 his son, C.R. Adams of Portland, Oregon, offered to sell them to the Missouri Historical Society, which was unable to acquire them. Mr. Adams next offered them to the Wisconsin Historical Society.
Superintendent Joseph Schafer purchased the sketches, which were unsigned and unidentified. He then attempted to identity the artist, inconclusively considering likely candidates Lt. Andrew Jackson Lindsay, George Gibbs and William Henry Tappan. Although all of them had journeyed on the Overland Trail, none of them had traveled the exact same route depicted in the drawings. James F. Wilkins, a relatively obscure artist in his own day and largely forgotten by 1925, was not identified as the creator until the 1960s. His previously undiscovered journal came to the attention of experts, who found that the sketches matched exactly the notes in his diary.
Note: The rest of the James F. Wilkins drawings are available to the public during regular Archives hours. See information on Visiting the Library and Archives. See the Library Catalog listing for the James F. Wilkins collection.
View the Gallery