Historical Essay
Documenting the Struggle for Farmworker Justice - Image Gallery Essay
Photographer David Giffey Captures Details of Migrant Worker Life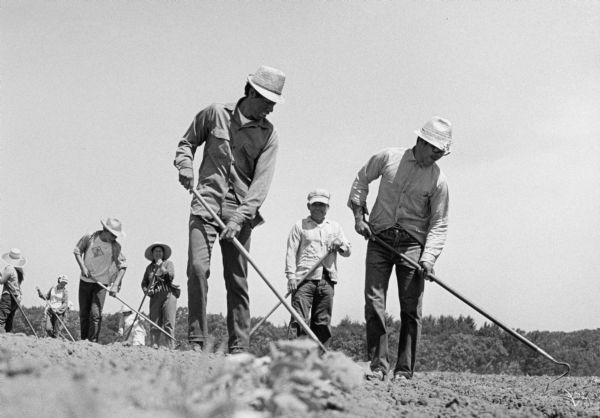 Cucumber Field Cultivation, 1967
Wautoma, Wisconsin. Ground-level view of a double row of workers cultivating a cucumber field with hoes. View the original source document: WHI 87205
The "Struggle for Farmworker Justice" gallery consists of 96 photographs taken between 1966 and 1971 by Wisconsin-born photojournalist David Giffey. Giffey captured details of migrant worker life in Wisconsin and Texas, revealing intimate details of people's living and working conditions. His images also document the solidarity between Wisconsin residents sympathetic to the United Farm Workers' grape boycott started by Cesar Chavez and Wisconsin labor union organizers such as Jesús Salas and Salvador Sanchez. Giffey took the photographs with a second-hand 1950s Nikon S2 rangefinder camera. He used the "push-processing" method to accommodate any underexposed Kodak Tri X Pan film negatives. When photographing indoors, he did not use flash attachments.
Giffey: The Evolution of a Workers' Rights and Peace Activist
Enlarge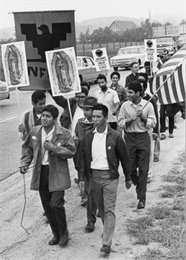 Salas and Sanchez Leading March to Madison, 1966
Wautoma, Wisconsin. 30 marchers of Obreros Unidos (United Workers) march from Wautoma to Madison on Highway 21 to petition lawmakers to hold farms and food industry corporations accountable for better working conditions for migrant farm workers. View the original source document: WHI 92280
Since 1961 David Giffey has worked as a staff writer, photojournalist and freelance correspondent for a variety of newspapers, magazines, and radio news outlets. His professional career began in 1965-66 in Vietnam, where he was a combat journalist for The American Traveler, a U.S. Army newspaper. Prior to that he had been a wire editor for the Oshkosh Daily Northwestern and an assistant editor at the Fort Riley Post.
When he returned to Wisconsin, Giffey became involved with Obreros Unidos (United Workers) and the migrant farm worker labor movement. He says his approach to photography and journalism was "specifically intended to advance the cause of farm workers." His philosophical and political interests drew him not only toward the farm worker movement but also alternative media and the peace movement.
After three decades of activism, Giffey created a traveling exhibit in 1998 called "Struggle for Justice: The Migrant Farm Worker Labor Movement in Wisconsin." It included black-and-white photographs, Spanish and English text blocks, and supplementary information such as maps and news stories. Two years later he edited another of his photographic collections, "The People's Stories of South Madison."
Giffey's Formative Years
David Giffey was born December 20, 1941, in Fond du Lac. He grew up on a small dairy farm and attended a one-room schoolhouse. While working as a young man in nearby corn and peas canning factories, he became acquainted with migrant workers from Texas, Mexico, the South, Jamaica and Barbados. In 1959, while in college, he befriended members of the Jesús Salas family who had moved to Wisconsin from Texas.
At the same time, Giffey became politically active. He worked for John F. Kennedy's 1960 presidential campaign and introduced JFK when the future president came to speak on his college campus. From 1966-1969 Giffey covered congressional and presidential candidates such as Eugene McCarthy, Richard Nixon, George Romney and George Wallace.
In addition to photography, Giffey has worked as a visual artist, painter and muralist for churches and public buildings. He was also the founder and instructor for the Boys & Girls Club of Dane County's "Youth Journal" from 2000-2010.
View the Gallery
View all images in the David Giffey gallery
---
Learn More
Read the 1998 booklet (in Spanish and English) that accompanied David Giffey's 'Struggle for Justice' exhibit
Read the Wisconsin Labor History Society page on the 'Struggle for Justice' exhibit
Read the 1971 report, 'Governor's Investigating Committee on Problems of Wisconsin's Spanish Speaking Communities'
See the 1981 resource guide, 'Hispanics in Wisconsin: a Bibliography of Resource Materials'
Read a brief history of Hispanic Americans in Wisconsin