Historical Essay
Up in Smoke: The Story of the 1904 Wisconsin State Capitol Fire - Image Gallery Essay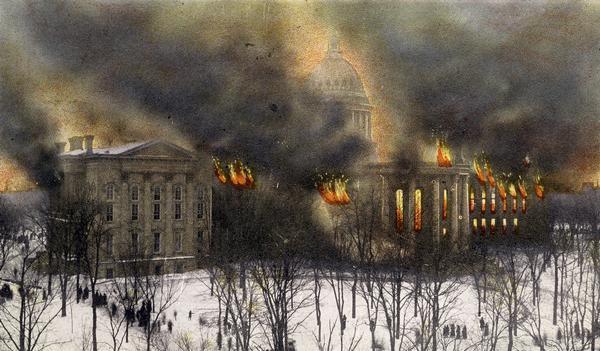 Fire at the Wisconsin State Capitol, 1904
Madison, WI. View the original source document: WHI 23250
This image gallery features 50 images of the third Wisconsin State Capitol, which was destroyed by a fire in 1904. The gallery includes prints, photographs, drawings, birds-eye maps, and watercolor sketches. There are images of the interior and exterior of the building before the fire, during the blaze, and of the fire's aftermath. The gallery also contains images of the second and the third Wisconsin State Capitols intact, representing the years 1851 through 1913.
About the 1904 Capitol Fire
Enlarge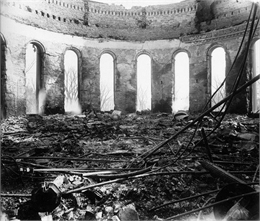 Surveying Fire Damage to the Third Wisconsin State Capitol, 1904
Ruins of the Senate Chamber at the Wisconsin State Capitol after the fire. View the original source document: WHI 23123
Despite its a state-of-the-art firefighting system, on February 26-27, 1904, the third Wisconsin State Capitol, was destroyed by fire. A gas jet in the closet on the second floor next to the assembly post office set fire to the woodwork at about 2:30 a.m., on February 27. Madison firefighters, with the help of two Milwaukee companies, fought the blaze for 18 hours. Governor La Follette personally directed the saving of documents, correspondence files, and the precious law library. Lost to the flames were the Grand Army records and the stuffed form of "Old Abe," Wisconsin's Civil War Eagle. The loss was estimated at between $800,000 and $1 million dollars, but no one died in the fire.
Only temporary repairs were made on the capitol after the fire. In the fall of 1906 construction began on the present state capitol. The old capitol was demolished by sections as progress on the new statehouse advanced. Two workers lost their lives during the construction of the $7.5 million edifice. One worker met his death when he was hurled to the ground as a row of stones fell from the top of the west end of the west wing. Another fell from the top of the dome to the bottom in the central portion after the iron work had been erected. If the loss of human life is considered, it was more costly to build the new capitol than it was to burn the old one.
There are only seven known pictures of the interior of the third capitol. All are of the legislative chambers. There are no images of the governor's office, the room from which Robert M. La Follette, Sr., launched Wisconsin's Progressive reform movement.
Photographers' Biographical Information
Famous photographers took many of the photographs. John Fuller, Andreas Dahl and Rueben Gold Thwaites all were fascinated by the Wisconsin State Capitol. John Fuller's photographs, representing 1860-1870 are from the carte-de-visite collection. Andreas Dahl's images are from the mid to late 1870s; many of them are stereographs. Thwaites' photographs from 1892-1896 are all interior shots with photos of people as well as offices.
View the Gallery
View the 1904 Capitol Fire images
---
Learn More
View a timeline and facts about the Wisconsin State Capitol
Read "Capitals and Capitols in Early Wisconsin" by Stanley Cravens (PDF, 145 KB)