Historical Essay
Cigarette Trade Cards - Image Gallery Essay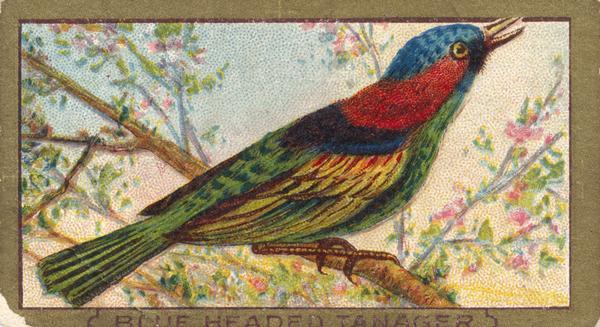 Blue Headed Tanager Cigarette Trade Card
Tobacco companies used trade cards to advertise their products during the late 19th century. Used to stiffen the box, the cards also became an advertising method. View the original source document: WHI 9810
This small gallery contains just over 25 unique images of cigarette trade cards, selected to be featured online. Most of the images feature animals, athletes and actresses popular at the time. Common companies found in this collection are Allen and Ginter, Kinney Brothers and Old Judge.
Cigarette Trade Cards in America
Enlarge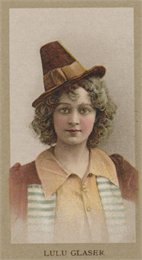 Lulu Glaser
Lulu Glaser (1874-1958), renowned Victorian/Edwardian comedic actress and singer. View the original source document: WHI 9770
During the late 1800s, tobacco companies used trade cards to advertise their products, as well as for the practical purpose of stiffening the box. The cards were a powerful advertising method, combining brand-marketing with popular, collectible images. They featured such appealing subjects as theatrical and sports stars and wildlife. Much like later bubble gum cards, cigarette cards were meant to be collected and were attractively printed as photographs or by the chromolithographic process, which used a separate limestone plate for each color.
Popularity and Themes
The trade cards were usually issued in numbered series of 25, 50 or larger runs to be collected with subsequent purchases of the same brand. These cards feature illustrations on one side with related information and advertising text on the other. Cigarette trade cards were most popular in the early decades of the 20th century, with many different types of illustrations. After World War I, their popularity resumed, with new subjects like film stars, sports and military figures. Plants, animals and monuments were still very common themes. The appeal of contemporary cigarette cards fell by World War II, ceasing their production and distribution. Today they are a collectable item cataloged in indexes and other publications.
View the Gallery