Historical Essay
Cranberry Farming in Wisconsin - Image Gallery Essay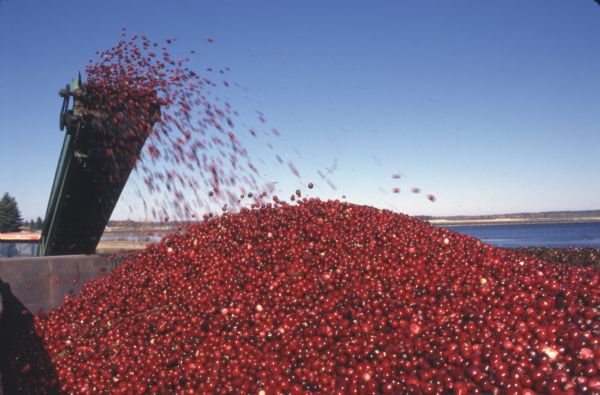 Loading Cranberries into Truck, 1997
Warrens, Wisconsin. Cranberries fly off of a conveyor belt onto a large pile in the back of a truck during harvest. View the original source document: WHI 88124
Cranberries, a vital part of Wisconsin's agricultural economy, provide more than half of the nation's total cranberry crop from 18,000 acres of beds. Another 160,000 acres are given to adjacent wetlands, woodlands, and uplands. Huge networks of ditches, dikes, dams and reservoirs are a common sight in Wisconsin.
Enlarge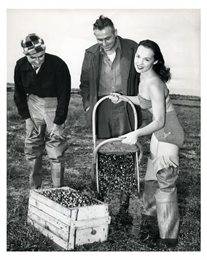 Harvesting Cranberries, 1947
A young woman dressed in a bathing suit and wading boots poses for a promotional photograph for the Wisconsin cranberry industry at Thunder Lake Marsh. View the original source document: WHI 1994
History of Cranberries in Wisconsin
Wild cranberries are native to the marshlands of central Wisconsin, and Native Americans have harvested them for centuries. Local Ho-Chunk Indians carried on a large trade for them with early settlers of Juneau County in 1849. Commercial production in Wisconsin began near Berlin in Green Lake County in the early 1850s. The center of the industry later moved to marshes around Tomah, Warrens and Wisconsin Rapids.
Advances in technology and agricultural research helped the industry expand over the last 100 years. In the early 20th century the Cranberry Experimental Station was set up to investigate drainage methods, insects and diseases, and the value of varieties native to Wisconsin. Thanks partly to this research, by 1956 Wisconsin had become the second largest source of cranberries (behind Massachusetts) and in 1994 became the country's leading cranberry producer.
Harvesting Cranberries
Enlarge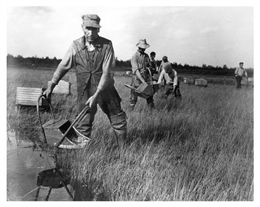 Harvesting Cranberries, 1950
Wisconsin. A group of men harvesting cranberries. View the original source document: WHI 1874
For hundreds of years cranberry harvesters picked the wild berries by hand. Starting in the 19th century, the cranberry rake — a hand-held tool with a large comb at one end and a basket at the other — increased production. The rake allowed leaves and stems to pass through the tines of the comb while collecting the berries in the basket.
During harvest the marshes were flooded with 6 to 10 inches of water to make the berries float to the surface, where seasonal workers wielding cranberry rakes collected them. Each fall, large bunkhouses in Tomah and Wisconsin Rapids filled with migrant workers. Native American workers would set up camp on the grounds of some of the larger marshes to work as pickers. Workers were paid 75 cents per bushel, and in 1875 pickers averaged two bushels per day.
The berries were then brought to a warehouse for cleaning, grading for quality and storage. At the end of a long day of picking berries, workers might look forward to dancing and music before retiring early to prepare for another day's labor.
During the 1945 season, German prisoners of war confined in Wisconsin worked in the cranberry bogs near Wisconsin Rapids. The prisoners worked in the marshes all summer, weeding the beds, digging drainage ditches and assisting with the harvest.
Around 1950 harvesting began to be mechanized. In 1949, 96 percent of Wisconsin cranberries were harvested with hand rakes, but by 1956 two-thirds were harvested mechanically. Today almost all berries are harvested by machine.
Central Wisconsin still celebrates the cranberry harvest with music, parades and other festivities.
View the Gallery
View all cranberry farming images in the gallery
Browse the Images