Historical Essay
Early 20th-Century Education - Image Gallery Essay
Grant County Rural Schools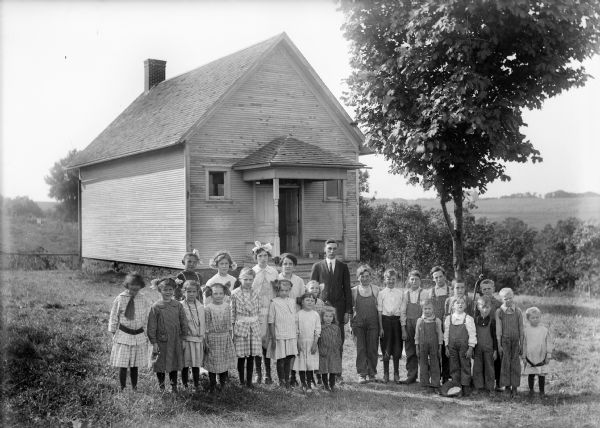 Fennimore District School Building and Class
A group of children and their teacher pose on the lawn in front of a one-room school building. View the original source document: WHI 66222
The Grant County Rural School Records image gallery represents both the day-to-day lives of southwestern Wisconsin schoolchildren and the annual fairs and contests in which they participated during the early 20th century. Many of the photographs in this collection show students posed outside one-room schoolhouses, with some documenting the interior classrooms.
Records Provide a Midwestern Microcosm of Rural Schools
In 1912 Grant County had 15 high schools, five first-class-graded schools, five second-class-graded schools and 201 one-room schoolhouses (many of which are documented here). Most of the remaining photographs were taken at the Grant County School Contest, the Big Badger Fair in Platteville or the Livingston High School Agricultural Fair. While these photographs represent only one county in Wisconsin, they exemplify rural schoolhouses found throughout the Midwest 100 years ago.
Initially, all the rural students met in one room with a single teacher. After the children grew older, they typically attended a high school that drew students from a larger area. Beginning in the 1920s, many school districts acquired motorized school buses, making it easier for young children to travel longer distances to school. One-room schoolhouses were then consolidated into multiple-room schools, where classes were held separately for different grades. By World War II most one-room schools had been replaced by larger schools, except in the most rural areas. Most 19th-century rural schoolhouses have now fallen into disrepair or vanished altogether.
Photos are Part of a Larger Collection
The Society obtained these photographs as part of a larger collection that includes written records of Grant County schools, such as minutes of annual meetings, financial records, teacher contracts and attendance records. These textual records, Grant Series 100, are housed at the Platteville Area Research Center, although the photographs are preserved at the Society's headquarters in Madison.
View the Gallery
View all Grant County school photographs
Browse the Images