Historical Essay
Howard Hughes, Filmmaker - Image Gallery Essay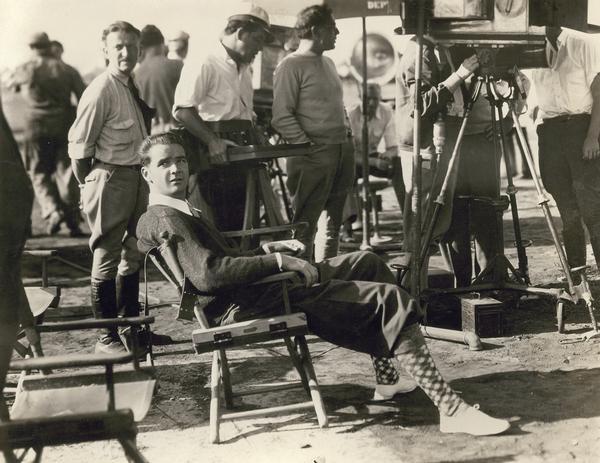 Howard Hughes, 1932
California. Howard Hughes on the set of "Sky Devils," a comedy about World War I aviation that starred Spencer Tracy. Hughes reused many of the airplanes he obtained for the 1930 production of "Hell's Angels." Here he is on location superintending the shooting of the air scenes. View the original source document: WHI 28293
Intrigued by the aerial combat scenes in "The Aviator," Martin Scorsese's biopic about the early film career of Howard Hughes? Then check out the Wisconsin Historical Society's gallery of production and publicity stills from "Hell's Angels," the making of which is featured in "The Aviator." This collection is just over 10 images, featuring stills of Howard Hughes, Jean Harlow, Spencer Tracy, airplanes and aerial combat.
United Artists Company Stills
Enlarge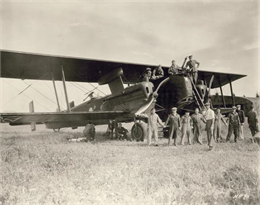 Gotha and Film Production Crew and Cast, 1930 ca.
A vintage German Gotha airplane brought to Hollywood by Howard Hughes for use in "Hell's Angels," together with members of the Caddo Company's film crew and several members of the cast in the plane. View the original source document: WHI 28294
The stills are from the records of the United Artists company, the releasing company for "Hell's Angels" in 1930. A WCFTR staff member tells us that the production crew of "The Aviators" purchased copies of all "Hell's Angels" stills in the Center's files, and that she noticed several scenes that were close representations of those stills. Given the importance Hughes placed on historical authenticity during filming of "Hell's Angels," this Scorsese touch is one that Hughes would have appreciated. In addition to the combat scenes, the gallery includes Jean Harlow, the 18-year-old starlet whom Hughes discovered and scenes from "Sky Devils," a later Hughes comedy starring Spencer Tracy that reused many of the "Hell's Angels" planes.
Howard Hughes Biography
Howard Hughes was born in Houston, Texas on December 24, 1905. At age 23, Hughes inherited the successful family oil tool business started by his father Howard R. Hughes Sr. In addition to aviation Hughes had several other profitable business ventures including real estate and entertainment. Hughes owned the Hollywood studio RKO Pictures for just under 10 years, and financed many feature films including "The Racket" (1928), "Hell's Angels" (1930), "Scarface" (1932) and "The Outlaw" (1941). Hughes also had a reputation for being a playboy, dating many Hollywood actresses including Ginger Rogers, Katherine Hepburn, Bette Davis and Joan Fontaine. Hughes founded his own aircraft company (Trans World Airlines), built and flew aircrafts, and broke several world air speed records. He built aircrafts like the Hughes H-1, the H-4 Hercules (nicknamed "The Spruce Goose") and the XF-11, which he crashed in 1946 - his second near fatal accident. In his personal life, Hughes shunned publicity and began to retreat from the world after his second crash. He eventually became a recluse in declining health, living in isolation in Las Vegas and international hotels, while still controlling business interests. His reclusive behavior caused many rumors and speculation about his physical and mental health for decades. In 1971 an "authorized" biography was announced, but the author Clifford Irving was discovered to be a fraud. The mystery surrounding Hughes continued until his death in 1976.
Note: The United Artists company records are owned by the Wisconsin Center for Film and Theatre Research (WCFTR) and housed in the Wisconsin Historical Society archives. To view the United Artists records, or other WCFTR holdings including films, contact the department by phone at 608-264-6466 or by email at askmovies@wisconsinhistory.org.
View the Gallery