Historical Essay
The Civil War Sketches of Alexander Simplot - Image Gallery Essay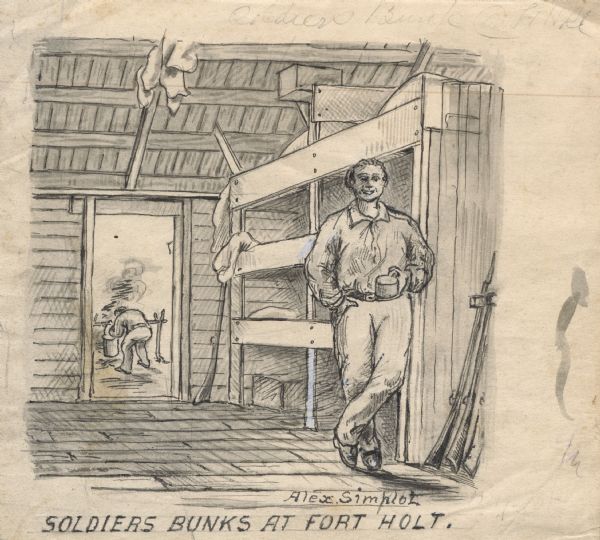 Soldiers' Bunks at Fort Holt
Kentucky. Drawing of a soldier holding a cup, standing next to his bunk at Fort Holt. Civil War firearms are in the closet on the right. Another man is in the background working (seen through an open doorway of the room.) View the original source document: WHI 32879
If asked to picture a scene from the Civil War, most Americans would probably imagine an iconic black-and-white photograph by Mathew Brady. But during the war very few people were able to see photographs like those because printers had no way to include them in newspapers and magazines. Instead, Americans saw engravings of drawings made by artists in the field. Artists sent hand-drawn sketches from the front to be engraved line-by-line on metal plates, which could be printed on paper alongside text. Periodicals such as Frank Leslie's Illustrated Newspaper and Harper's Weekly brought thousands of Civil War scenes into American homes. This gallery features dozens of original drawings and sketches by one of those artists, Alexander Simplot (1837-1914), who worked as an illustrator for Harper's Weekly during the first half of the war.
Simplot's Career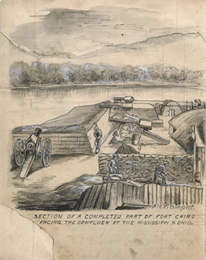 Enlarge

Fort Cairo

Cairo, Illinois. Drawing of a section of a completed part of Fort Cairo facing the confluen [sic] of the Mississippi and Ohio rivers. View the original source document: WHI 32876
Simplot grew up in Dubuque, Iowa, and graduated from Union College in Schenectady, New York, in 1858. When the war broke out in 1861, he accompanied a crew of journalists calling themselves "The Bohemian Brigade" and went south. At first he traveled into Missouri with a fruitless expedition led by Gen. John C. Fremont. But one of Simplot's acquaintances was on the staff of Gen. Ulysses S. Grant and helped Simplot gain permission to travel with Union troops in the spring of 1862.
Simplot followed Grant up the Tennessee River and depicted the federal victories at Fort Donelson and Fort Henry. He next went downstream to catch the battle of Island No. 10, opposite New Madrid, Missouri, where the 8th and 15th Wisconsin Infantry regiments and 5th, 6th and 7th Wisconsin Light Artillery batteries were heavily engaged. He then rejoined Grant's staff for the Battle of Shiloh, Tennessee, in April 1862, where many Wisconsin troops had their first taste of combat, and depicted the siege and capture of Corinth, Mississippi, in May.
Simplot was the only war artist to capture the thrilling battle of the Confederate and Union flotillas before Memphis in June, and his sketch of gunboats approaching the city has been widely reproduced. Simplot became very sick during his travels in the South and was forced to return to Dubuque in the summer of 1862. After the war he married and became a photo engraver in his native city, where he died in 1914.
Simplot's Sketches and Final Printed Images
Between June 15, 1861, and Jan. 10, 1863, Harper's Weekly published more than 60 of Alexander Simplot's sketches, for which he was paid about $1,250. He sent them a handful in later years, as well, and retained many of his early drafts. A number of these depict non-military subjects.
The original pencil sketches came to the Wisconsin Historical Society in 1958 after being discovered in a garage belonging to one of his grandsons in Madison. Journalist John Patrick Hunter tells how they were uncovered, and provides a short biography of Simplot, in his article, "Alexander Simplot, Forgotten Bohemian" (Wisconsin Magazine of History: Volume 41, number 4, summer, 1958: 256-261). The Society also owns a complete set of Harper's Weekly that contains the published engravings made from Simplot's sketches.
View the Gallery
View all sketches in the Alex Simplot gallery
Browse the Images
---
Learn More
'Alexander Simplot, Forgotten Bohemian'
By John Patrick Hunter, "Wisconsin Magazine of History" 41/4 (Summer, 1958): 256-261.