Historical Essay
Valentine's Day Greeting Cards - Image Gallery Essay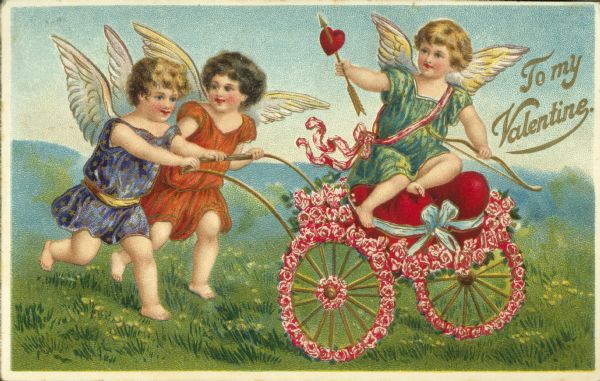 To My Valentine, 1910
Valentine's Day postcard with Cupid holding a bow and arrow seated in a two-wheeled cart made of flowers. Text on the right reads "To My Valentine." Chromolithograph, embossed, printed in Germany. View the original source document: WHI 63801
This collection of Valentine's Day greeting cards provides a glimpse into the way Americans have shared their feelings of love and affection every February 14th from 1840 through 1980.
Valentine Designs for Everyone
The figures in the Valentine's Day cards gallery include everything from men, women, boys and girls to Cupid and cherubs. One card has two masked, gun-toting Cupids robbing a woman. Many cards feature animals: bears, dogs, cats, donkeys, horses, birds and swans. Of course, hearts, flowers, ribbons and butterflies appear in almost all of the valentines. A few cards have fruit or vegetable themes: beets, peaches and plums. Some cards have moveable hinged parts fastened with eyelets. One card has a stick of Black Jack gum still attached. Several have multiple parts held together with cords, and others have many layers to produce a three-dimensional look. A selection of inexpensive children's bulk valentines from several decades take the viewer back to elementary school days. Also of interest are the parts of a kit used to create custom valentines by the purchaser.
The Origins of St. Valentine's Day
Enlarge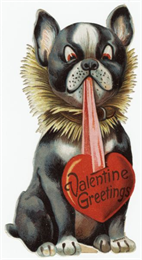 Valentine Greetings, 1925
Valentine's Day card of a black and white dog with a furry tan ruff and a collar, holding a ribbon in his mouth that is attached to a heart. Within the heart it reads "Valentine Greetings". Chromolithograph, printed in Germany. View the original source document: WHI 81256
The exact beginning of St. Valentine's Day is in dispute, but the most popular story tells of a Roman priest, Valentine of Rome, who defied the order of Roman Emperor Claudius II to stop performing marriage ceremonies for young men whom he wished to recruit into the army. He believed that married men did not make good soldiers. He had Valentine arrested and incarcerated. While in prison, Valentine became friends with the blind daughter of his jailer. Before his execution in A.D. 269, he healed her blindness and wrote her a note, which he signed "from your Valentine."
Pope Gelasius established St. Valentine's Day in A.D. 500 to replace Lupercalia, a pagan fertility rite celebrated in Rome. Pope Paul VI removed it from the Roman calendar of saints in 1969, but still permitted the religious observance.
The first association of Valentine's Day with romantic love was in a 1382 poem by Geoffrey Chaucer to honor the first anniversary of the engagement of King Richard II of England to Anne of Bohemia. In A.D. 1415 the Duke of Orleans wrote a poem to his wife while being held in the Tower of London. This is the oldest known valentine in existence today. The popular celebration of Valentine's Day began in the 17th century in Great Britain. By the middle of the 18th century, people began exchanging small tokens and notes. By 1800, printed cards began to replace written letters.
Valentine's Day Greeting Cards in America
Exchanging handmade Valentine's Day cards probably began in America in the early 1700s. Manufactured cards appeared as early as the 1830s. After this time, the availability of paper and a universal postal system made valentines more accessible to the masses. In 1847 Esther Howland, known as the "Mother of the American Valentine" received an elaborate English valentine. This inspired her to create her own valentines, convincing her father, who owned the largest book and stationery store in Worcester, Massachusetts, to order paper lace and supplies from England and New York.
That first year she hoped to sell $200 worth of cards. Her brother took a dozen samples on his next sales trip and returned with $5,000 in advance sales. In order to fill the orders, she recruited friends and family, and her business was born. Eventually her company was making $100,000 a year. In 1879 she joined forces with Edward Taft to create the New England Valentine Company. In 1881 George C. Whitney bought their business, combining it with his own, the Whitney Valentine Company. His son continued manufacturing Valentine's Day cards until 1942 when wartime paper shortages caused the business to close.
View the Gallery
View all Valentine's Day cards in the gallery
Browse the Images