Historical Essay
The French Fur Trade in Wisconsin
When the Beaver was King
Enlarge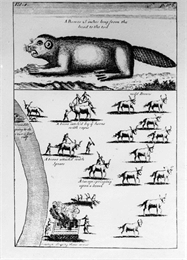 Beaver Hunting Techniques
An early drawing depicting various beaver hunting techniques. View the original source document: WHI 35062
Before the French arrived, Wisconsin's most valuable animals were the white-tailed deer, catfish, wild turkey and freshwater mussel. But starting in 1650, the economy began to revolve around beavers in the way that today's economy is centered on oil. For two hundred years, Wisconsin's most important animal was the beaver.
Hats
In the 17th century, Europeans did not work in offices or factories. A few worked in shops, but most spent all day outdoors. They farmed or transported farm goods, in good and bad weather. As any experienced hiker or fisherman knows, the most useful thing to have in inclement weather is a good hat. Beaver made the best hats.
Because the fur is waterproof, beaver skins could be shaved and pressed into a pliable felt that kept the wearer both warm and dry. Beaver hats were the preferred hats around the world. The market for beaver was immense and long lasting. Anyone who could supply beaver skins to cities in Europe and America could grow rich.
Trade
Enlarge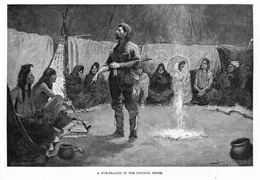 Fur Trader in Council Tepee, 1892
Engraving of a fur trader standing in the middle of a circle of seated Indians in their council tepee. View the original source document: WHI 3775
Merchants in Montreal satisfied European demand for Beaver skins by importing products for Indian hunters in exchange for skins. Merchants imported metal knives, awls, kettles, steel flints for starting fires, guns, ammunition, illegal alcohol, wool blankets and porcelain beads for jewelry. Trade goods were stored in regional warehouses in settlements such as Michilimackinac and then redistributed to smaller trading posts at Green Bay, Prairie du Chien and LaPointe on Madeline Island.
In the fall, traders advanced guns, ammunition and other supplies to Indian hunters on credit. In spring, the hunters returned to pay off their bills in furs. This system kept Indian hunters in permanent debt to their French employers. The traders packed large canoes with thousands of pounds of pelts for the trip back to Montreal. Beavers caught in Milwaukee or Minocqua ended up on the heads of customers in Paris and London. Military garrisons were established throughout the Great Lakes to make sure that trade goods came in and pelts went out with as little interruption as possible.
Decline
For most of the eighteenth century, furs came through lakes Michigan and Superior from Wisconsin, Minnesota, western Ontario and many other regions. After Britain secured the area in 1763, Scottish fur trader Alexander Henry became one of the first Britons to visit Wisconsin. His 1765 account shows the effects of a century of colonialism on the Ojibwe people.
Wisconsin Indian hunters provided a major source of income under the British, who controlled the trade even after the American Revolution. In 1767, a third of Mackinac furs came through Green Bay. The trade thrived for a generation and new outlets sprang up around Wisconsin. The first white settlement at Milwaukee was a tiny fur trading post started in 1795 by Jacques Vieau. But overhunting gradually caused the fur trade to shift farther west. By 1840 most furs were being shipped from Hudson Bay to London or from Oregon to New York by sea. Wisconsin's fur trade era was over.
Learn More
Explore the Turning Points in Wisconsin History Collection
[Sources: Wyman, Mark. The Wisconsin Frontier (Bloomington: Indiana University Press, c1998). Kellogg, Louise Phelps. The French Regime in Wisconsin and the Northwest (Madison : State Historical Society of Wisconsin, 1925). The History of Wisconsin: volume 1, From Exploration to Statehood by Alice E. Smith. (Madison, State Historical Society of Wisconsin, 1973)]