Historical Essay
Dickey Chapelle, Photojournalist - Image Gallery Essay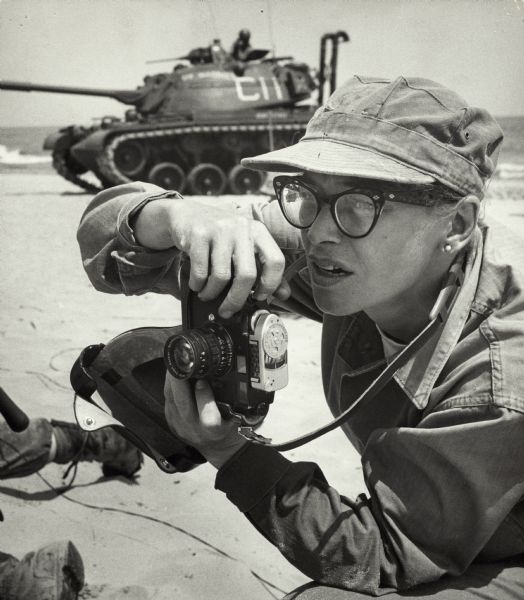 Dickey Chapelle at Opening of St. Lawrence Seaway, 1959
Dickey Chapelle, photographer, at the opening of the St. Lawrence Seaway, "Operation Inland Seas." She is holding her camera and there is a tank in the background. This is her favorite photograph of herself at work. View the original source document: WHI 1942
This gallery of over 450 images showcases Dickey Chapelle's work as a war correspondent during World War II, the Korean conflict and Vietnam. Dickey Chapelle was born Georgette Meyer in Shorewood, Wisconsin. Chapelle covered the Second World War in Iwo Jima and Okinawa and became known for her coverage of major wars for Life, Look, and National Geographic. In 1965, while covering the Vietnam conflict, Chapelle was killed by a landmine. She was the first female correspondent killed in action.
About Dickey Chapelle
Photojournalist Dickey Chapelle (1919-1965) became one of the first female war correspondents. Born Georgette Meyer in Shorewood, Wisconsin, in 1919, "Dickey" (self-named after her favorite explorer, Admiral Richard Byrd) earned a full scholarship to study aeronautical design at the Massachusetts Institute of Technology after graduating first in her class at the age of 16. She returned home a few months later, knowing she would rather fly a plane than design one and began working at a Milwaukee airfield. When Chapelle's mother learned of her affair with a pilot, she was sent to live with her grandparents in Florida.
Enlarge
Vietnam Outpost
Dropping supplies at a South Vietnamese army outpost. Photographer Dickey Chapelle of Milwaukee was on board the helicopter as the drop was taking place. View the original source document: WHI 11743
After working in a series of jobs in Florida, Chapelle landed a job with TWA in New York, where she enrolled in a photo class taught by TWA's publicity photographer, and her future husband, Tony Chapelle. She soon began working as a photographer for TWA herself, and later, after 15 years of marriage, she divorced Tony and officially changed her name to Dickey.
Despite mediocre credentials, Chapelle managed to become a war correspondent for National Geographic, posted with the Marines during World War II. Known for her tenacity and willingness to do anything to get the story, Chapelle was "adopted" into many different nations' military units, including rebel groups in Algeria, Cuba, Hungary and South Vietnam. Chapelle even took up parachuting at the age of 40 to cover guerilla conflicts in inhospitable terrain. She became the first female reporter to win approval from the Pentagon to jump with American troops in Vietnam.
In the last years of her life, many of her photographs and stories were deemed too sensitive for publication as her passion for stories began to cloud her objectivity. An outspoken anti-communist, Chapelle loudly proclaimed her pro-American views. In 1965 Chapelle convinced her editors to send her back to Vietnam. On the morning of November 4, 1965, Chapelle was killed by a land mine while on patrol with a platoon, becoming the first war correspondent killed in Vietnam.
View the Gallery