Historical Essay
McCormick-International Harvester Collection — Image Gallery Essay
Farming in America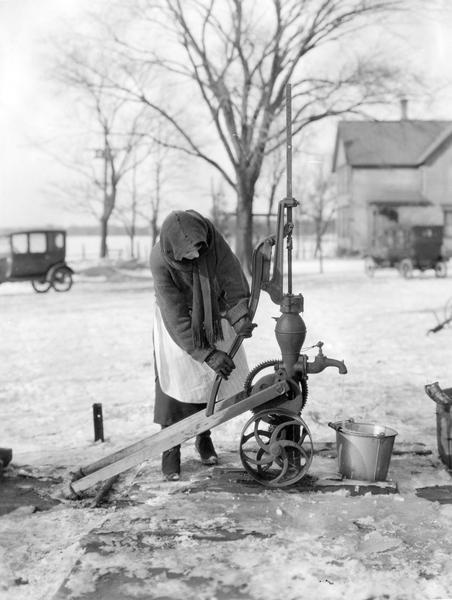 Woman Pumping Water from Farm Well, 1923
A bundled-up woman hand pumps water from a well into a pail. The ground is covered with ice and snow. Two cars and a farmhouse appear in the background. View the original source document: WHI 6701
The International Harvester Company was the largest and most influential farm equipment manufacturer of the 20th century. The combined McCormick-International Harvester materials comprise the largest single collection held by the Wisconsin Historical Society Archives. This massive collection includes hundreds of thousands of images dating from the 1840s through the 1980s, created by and for the McCormick and International Harvester companies, and Cyrus McCormick and his family. These images document the history of the agricultural equipment industry as well as rural life, small towns, architecture, industrial labor, technology, transportation and advertising.
Click on the following subject links to view a selection of more than 10,000 images from this collection:
Interested in learning more about the online image collections? Subscribe to our monthly email newsletter, and tune in to our featured gallery exhibits and special image highlights today!