Historical Essay
Wisconsin State Constitutions of 1846 and 1848
Too Progressive for Wisconsin
Enlarge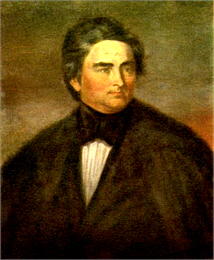 Henry Dodge, 1836
Henry Dodge, 1836. Green Bay, Wisconsin. Painted by James Bowman just after Dodge was appointed as the first governor of the Territory of Wisconsin. Dodge served as governor again from 1845-1848. View the original source document: WHI 2612
When Wisconsin was a territory, political leaders and businessmen — often one and the same — wanted it to be a state. They believed that statehood would give politicians personal and political benefits by increasing their influence. Businessmen would benefit from a more efficient and cohesive government that could attract investments from the East to aid Wisconsin's economic development.
Ready for Statehood
The Northwest Ordinance of 1787 dictated how territories could be admitted as states. Whenever a territory's population reached 60,000 free inhabitants, it would be eligible for statehood with the same political rights as the original thirteen states. By 1845 the Wisconsin territory had grown to 155,000 — well beyond the minimum 60,000.
Four previous attempts at statehood had been defeated. But Governor Henry Dodge had a strongly Democratic territorial legislature. In 1846 they pushed through a referendum that received overwhelming support. Wisconsin was set for a quick transition to statehood. But the process of drafting and ratifying a state constitution proved complicated.
Constitutional Convention
Enlarge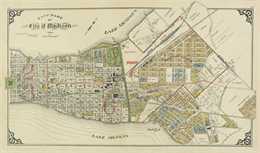 Map of Madison
A map of Madison from 1911. After Wisconsin became a territory, James Duane Doty sold the land that would become Madison Wisconsin. View the original source document: WHI 36494
In the fall of 1846, 124 delegates met at Madison to prepare a constitution. Most of the delegates were Democrats. But they consisted of several factions that argued for ten weeks before agreeing on a draft. The delegates gave the most attention to the economic and social problems of the time, especially concerning banks and paper money. A delegate from Racine named Edwarg G. Ryan who hated banks presented one of the constitution's most influential articles. He believed in President Andrew Jackson's convictions that metal money was the only safe currency and that legislatures were too easily bribed by banks. Ryan drafted an article that effectively prohibited all commercial banking in Wisconsin. Ryan's proposal forbade the legislature from creating or authorizing banks, banned all banking business in Wisconsin, and outlawed the circulation of paper money in denominations greater than twenty dollars. Ryan's article passed by a vote of 79 to 27.
The convention concluded in December of 1846. The proposed constitution was far more progressive than those of other states. It included a number of controversial articles besides Ryan's. It allowed immigrants who applied for citizenship to vote, granted married women the right to own property and made black suffrage subject to popular referendum. These provisions excited spirited debate. Few citizens of the territory were satisfied with the entire draft of the constitution. Opposition defeated it in April of 1847.
New Constitution and Statehood
A new convention met in December of 1847. They drafted a more acceptable, moderate constitution in only seven weeks. Taking a cue from the previous votes in April, the delegates omitted any mention of women's property rights or black suffrage from the new constitution. Suffrage was given to white native-born men, immigrant men who had declared their intention to become citizens and Indians who had been admitted as U.S. citizens. The legislature was also allowed to charter banks after submitting the matter to popular vote. Wisconsin voters accepted the new constitution in March of 1848.
Learn More
Explore the Turning Points in Wisconsin History Collection
[Sources: The History of Wisconsin vols. 1 and 2 (Madison: State Historical Society of Wisconsin); Kasparek, Jon, Bobbie Malone and Erica Schock. Wisconsin History Highlights: Delving into the Past (Madison: Wisconsin Historical Society Press, 2004); Gara, Larry. A Short History of Wisconsin. (Madison: State Historical Society of Wisconsin, 1962)]