Historical Essay
Wisconsin at Play - Image Gallery Essay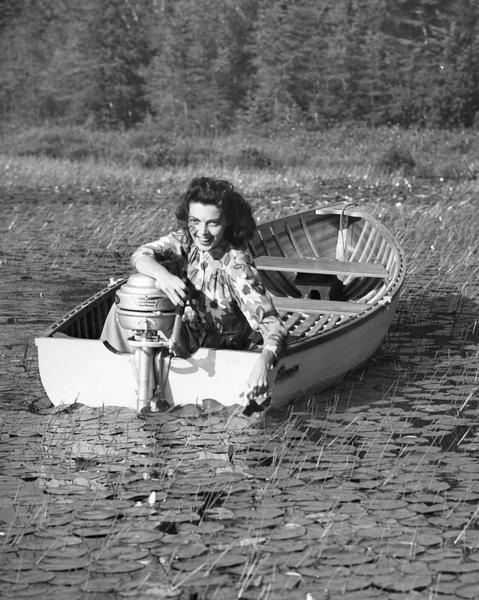 Woman in Boat
An Evinrude boat motor advertisement with woman posing in boat. View the original source document: WHI 7859
Enlarge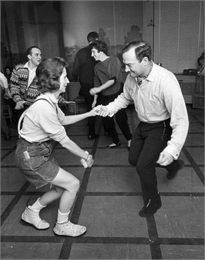 Vagabonds Shimmy, 1963
Skiers dance and twist in the Northland hotel dining room. View the original source document: WHI 23527
Although Wisconsin is known as "The Dairy State," it could just as well be called "The Fun & Games" state, because of the variety of recreational opportunities available, both in cities and rural areas. The popularity of sports, special events and recreational places through time is shown in hundreds of photographs in the collections of the Archives of the Wisconsin State Historical Society. From auto racing to zoos, from euchre to logrolling, we have many marvelous images that serve as examples of how people have relaxed, enjoyed athletic activities and socialized in the past. This collection contains over 9,100 images of Wisconsin recreation, use the facets to the left of the images within the gallery to browse by subject.
Wisconsin Photographers
Many photographers who lived or worked in Wisconsin took photographs of active, busy people. Ephraim Trimpey, Arthur Vinje, Gerhard Gesell, Harry Dankoler, Annie Sievers Schildhauer, John Newhouse and Angus McVicar all took photographs of people pursuing their hobbies: curling, baseball, bowling, dancing, biking and scuba diving. The Wisconsin State Journal published Arthur Vinje's photographs and Angus McVicar worked for the Photo Copy Service. More photographs by these photographers and others are available for viewing in the Society's collections.
Enlarge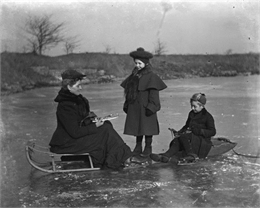 Ice Skating on Quarry Pond, 1905
Florentina, Jennie, and Edgar Krueger prepare for ice skating on the quarry pond. Florentina and Edgar sit on sleds on the ice, as they attach blades to their shoes. Jennie stands between them. View the original source document: WHI 109485
View the Gallery
View all images of Wisconsin at play

Learn More
Annie Sievers Schildhauer gallery