Historical Essay
Treaty Councils, from Prairie du Chien to Madeline Island
How the Natives Lost Their Land
Enlarge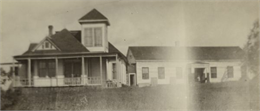 Old Treaty Hall, 1911
Old Treaty Hall, so called because of a treaty signed there on September 30, 1854 between the Chippewas and the settlers that gave the land to the United States. In later years the building was owned by George Francis Thomas who lived with his family in the cottage during the summer months. He presented the building to the DAR, but it was destroyed by fire shortly thereafter. View the original source document: WHI 36891
In August 1825, thousands of Indians representing all Wisconsin tribes gathered in Prairie du Chien. Territorial governors William Clark of Missouri and Lewis Cass of Michigan facilitated discussions that produced a general treaty of peace among all the tribes. Henry Schoolcraft left a long account of the event in his memoirs and painter J.O. Lewis captured the scene and dozens of Indian leaders in color portraits.
The treaty granted no land to the United States. But it enabled talks with individual tribes that were intended to do so. Between 1829 and 1833 the first four of these meetings transferred all lands south of the Fox-Wisconsin waterway to the United States. Over the next fifteen years, the tribes ceded nearly all the rest of Wisconsin to the U.S. government in five more meetings. In one generation, natives who had lived in Wisconsin for centuries or millennia lost the rights to their lands.

Enlarge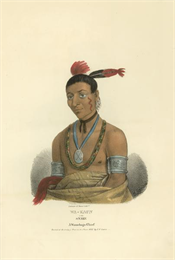 Wa-kaun, 1825
Portrait of Wa-kaun (Snake) a Winnebago (Ho-Chunk) Chief painted by J.O. Lewis at the Treaty of Prairie du Chien in 1825. View the original source document: WHI 4795
Wisconsin Indians and the U.S. government negotiated more than seventy treaties between 1804 and 1854. Compensation was always granted for ceded territory. But payment was often minimal as white negotiators took advantage of their Indian counterparts. "We are ignorant of the way you measure land," said a Menominee chief. "We do not know what you mean by the acres you speak of. What is it?" U.S. negotiators could be equally ignorant: they negotiated and signed more than one treaty with Indians who lacked authority to speak for their nation. Ignorance, misplaced benevolence, racism, malice and greed all contributed to the legal dispossession of Wisconsin's first peoples.
For a complete list of all treaties and their texts, see "Kappler's Indian affairs: laws and treaties." The major treaties between tribes and the government that resulted in Wisconsin land cessions are the following:
Learn More
Explore the Turning Points in Wisconsin History Collection
[Sources: Wyman, Mark. The Wisconsin Frontier (Bloomington: Indiana University Press, c1998). The History of Wisconsin: volume 1, From Exploration to Statehood by Alice E. Smith. (Madison, State Historical Society of Wisconsin, 1973)]