Historical Essay
Birth of Wisconsin's Railroads
Drawing the Line from the Mississippi to Lake Michigan
Enlarge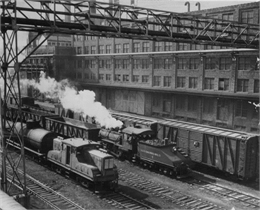 Railroad Yard, ca. 1940
Elevated view of Milwaukee railroad yards showing several trains on the tracks next to a large industrial building. The coal car in front of the locomotive has written on its side: "Allis-Chalmers Mfg. Co." View the original source document: WHI 64788
Although no railroads were constructed or operated in Wisconsin until after it became it a state, territorial officials and businessmen discussed them frequently. Michigan's legislative council wanted to connect the lead mines in southwestern Wisconsin with ships on Lake Michigan. The council petitioned Congress to make a rail line from the Mississippi River to Lake Michigan. Communities along the Mississippi competed to be the western terminus of the railroad. Milwaukee competed with Sheboygan, Green Bay, Racine, Southport and even Chicago to house the end of the railroad for Lake Michigan.
Petition
In the fall of 1836, Milwaukee held a public meeting to petition the territorial legislature to incorporate a company to construct the proposed railroad. But the meeting seemed premature. Wisconsin had a small population and railroads were just beginning to be constructed for the first time in the east. But in the 1840s, agriculture — especially wheat — began to replace lead mining as one of Wisconsin's major industries. As cities on the East Coast grew, they needed better transportation to receive shipments of wheat and other products from the Midwest.
Transcontinental Railroad
Enlarge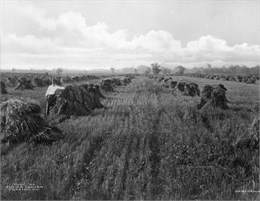 Wheat Field, 1915
A man poses in a wheat field in the vicinity of Tulsa. The field has been recently harvested, and bundles of wheat sit in rows. Text on photograph reads: "Publ. By Tulsa Indian Trading Co." The popularity of wheat in the 19th century would spur the need for a railroad in Wisconsin. View the original source document: WHI 72283
Most people thought railroads were the only solution. Trains had been successful in the East. By the early 1840s, there was talk of uniting the Atlantic and Pacific by a continental railroad. A railway would be able to move produce, goods and people across the Wisconsin Territory. Unlike horse-drawn carriages, trains would not have to stop due to bad weather. Many officials and businessmen hoped that a railroad would draw the region together and unite the Wisconsin Territory through a common interest. They also hoped railroads would encourage further settlement.
Together at Last
When the Chicago-Galena Line opened, the Wisconsin legislature — not to be outdone by Illinois — jumped into action to build their own railroad. In 1847, the legislature authorized a line from Milwaukee to Waukesha that was later extended to the Mississippi. The first train ran from Milwaukee to Waukesha on February 25, 1851. By April, one passenger and one freight train ran each day. By 1857, the first railroad from Lake Michigan to the Mississippi was complete. Soon after, a line from Milwaukee to La Crosse opened, and other lines were extended into it north from Chicago.
Wisconsin did not become an important link in the Atlantic-Pacific rail system. But railroads offered farmers a more reliable way to get products to eastern markets. Railroads also gave immigrants and settlers from the East Coast an easier passage to the state.
Learn More
Explore the Turning Points in Wisconsin History Collection
[Sources: The History of Wisconsin vol. 2 (Madison: State Historical Society of Wisconsin); Kasparek, Jon, Bobbie Malone and Erica Schock. Wisconsin History Highlights: Delving into the Past (Madison: Wisconsin Historical Society Press, 2004);"Railroad History of Central Wisconsin" Portage County Historical Society]