General Information
Local History Webinars
Online Learning for Local History and Community Organizations
The Wisconsin Historical Society's Local History Outreach office offers local history webinars throughout the year. All local history webinars are free and open to anyone interested in local history and the skills needed to collect, preserve and share your stories.
2022 Webinars
Local Historical Societies and Local Government Records
Recorded March 25, 2022
Enlarge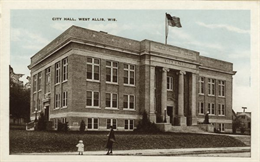 City Hall
West Allis, WI, ca. 1925 View the original source document: WHI 35690
Wisconsin Historical Society Local Government Records Archivist Andrew Baraniak will discuss various legal issues concerning local historical societies when it comes to holding local government records. Topics covered will include basic public records laws and open records requirements in the state, title transfer requirements under state law for government records, requirements for handling confidential information in public records, and next steps for identifying and handling local records that may be in the holdings of local historical societies.
This webinar is recommended for Wisconsin-based local historical societies, archives, and small museums that handle local government records.
View a recording of the presentation here.
---
Ojibwe Storytelling Series
Enlarge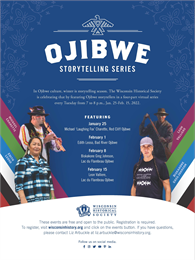 In Ojibwe culture, winter is storytelling season. The Wisconsin Historical Society celebrated by featuring Ojibwe storytellers in a four-part virtual series.
Learn more about this webinar series here.
Michael Laughing Fox Charette
Recorded January 25, 2022
Michael Laughing Fox Charette, a member of the Red Cliff Band of Lake Superior Chippewa (located in Northern Wisconsin), engages and delights diverse audiences with poetry, flute, drum, and storytelling performances that weave Indigenous teachings into a modern day context. His strong respect for all cultures resonates in his performances.
As a self-taught Native flute player, Michael enhances his stories with hauntingly beautiful flute and drum performance. Growing up surrounded by the beauty of Lake Superior and the woods led him to dedicate his gifts as an artist to gently teaching about Native history, culture, and spirituality. His work as both a visual and performance artist is varied and tied together by the traditional wisdom of the Anishinaabe people, which is respectfully incorporated into his work. Michael captivates audiences with his authentic, relaxed style.
View a recording of the presentation here.
Edith Leoso
Recorded February 1, 2022
Edith Leoso is a Bad River Tribal member working as the Tribal Historic Presevation Officer since 2005. She has been a discussant and presenter on tribal historic preservation for a variety of audiences on a local, regional, national, and international level. In 2015, she co-authored "Ganawendan Ginibiminaan: Mobilizing with the Bad River Ojibwe Community for Watersheds-At-Risk" with Jessie Conaway, Ph.D., Nelson Institute of Environmental Studies, UW-Madison. In 2010, Edith received her Associate of Arts degree from the Lac Courte Oreilles Ojibwa Community College, Lac Courte Oreilles, Wisconsin. Her story was published in Love Wisconsin in 2018. She was recently featured in the Wisconsin Initiative on Climate Change Impacts Report, an online interactive paper. She is also featured in the YouTube video "Stewards of All Creation."
View a recording of the presentation here.
Biskakone Greg Johnson
Recorded February 8, 2022
Biskakone Greg Johnson is a proud member of the Lac du Flambeau band of Lake Superior Chippewa Indians. He is a devoted partner and father to four beautiful children. Greg is a teacher, both in the school system and community. You can find him sharing his passion for traditional, seasonal Anishinaabe living with communities throughout the Great Lakes region. He is a hunter, gatherer, spear fisherman, and fierce advocate for treaty rights. His efforts to further sovereignty for the Anishinaabe have been featured in multiple publications. Biskakone is also an acclaimed artist and graphic designer. He has mastered the art of Ojibwe moccasin-making and is motivated to raise up the next generation of makers in this field. Biskakone's commitment to family, ceremonies, and community will always be foremost in his life.
View a recording of the presentation here.
Leon C. Valliere "Ozaawaagosh"
Recorded February 15, 2022
Leon C. Valliere, also known as Ozaawaagosh, is a recognized elder and ceremonial leader who currently serves the Lac du Flambeau Band of Lake Superior Chippewa Indians as director of the Ojibwe Language Program. Teaching in the Lac du Flambeau Public School, Lakeland Union High School, and Lac du Flambeau community, Mr. Valliere serves students of all ages. In addition, Mr. Valliere also provides instruction, consultation, and curriculum to other Ojibwe language programs in the region.
Ozaawaagosh considers himself to be fortunate, as his upbringing included fluent Ojibwe language speakers in his household and community. He was raised by a traditional hunting, fishing, and gathering family. Ozaawaagosh continues this lifestyle and promotes the "original" aspects of Ojibwe culture within the community known as "Waaswaaganing."
Ozaawaagosh also promotes bi-cultural existence and survival. He continually encourages youth to reach their full potential. Mr. Valliere's formal education was obtained at UW-Stout; however, he credits time spent with noted elders in the northern territory as his true education. His interests include birchbark canoe building, Ojibwe history, and Ojibwe music.
View a recording of the presentation here.
Past Webinars
Modern Jungles: A Conversation about the Hmong Refugee Experience in Wisconsin
Recorded April 29, 2021
Join the Wisconsin Historical Society for a panel discussion exploring the themes of the new Wisconsin Historical Society Press book Modern Jungles: A Hmong Refugees Childhood Story of Survival by Pao Lor. After a difficult and perilous journey that neither of his parents survived, five-year-old Pao Lor reached the safety of Thailand, but the young refugee boy's challenges were only just beginning. Drawing from both personal experiences and contemporary scholarship, panelists will discuss the Hmong diaspora to Wisconsin and the important contributions of Hmong Wisconsinites today.
Panelists include Pao Lor, Professor and Chair, Professional Program in Education, UW-Green Bay; Chia Youyee Vang, Interim Diversity, Equity, and Inclusion Officer and Professor of History, UW-Milwaukee, and Member, Wisconsin Historical Society Board of Curators; and Mai Zong Vue, Board Member, The Hmong Institute, and Children's Mental Health Program Coordinator, Wisconsin Department of Health Services.
View a recording of the webinar here.
---
Why You Can't Teach United States History without American Indians
Recorded April 21, 2021
For too many students, teachers, and scholars of U.S. history, Native American history has been at best an add-on - a subject dealt with at the margins of other topics. This webinar brings together four dynamic scholars to talk together about the methods and questions that are challenging this marginalization and to show why you can't teach U.S. history without American Indians.
This webinar is part of Our Shared Future, the University of Wisconsin-Madison's ongoing effort to educate the campus and the broader community on the Ho-Chunk Nation, the eleven other First Nations within the borders of Wisconsin, and the history they share with the university.
The webinar was moderated by Stephen Kantrowitz, Plaenert-Bascom Professor of History and faculty affiliate in Afro-American Studies and American Indian Studies at the University of Wisconsin-Madison. Panelists include Elizabeth Ellis, Assistant Professor of History, New York University; Doug Kiel, Assistant Professor of History, Northwestern University; Dr. Rose Miron, Director, D'Arcy McNickle Center for American Indian and Indigenous Studies, Newberry Library; and Sasha Maria Suarez, Assistant Professor of History and American Indian Studies, University of Wisconsin-Madison.
View a recording of the webinar here.
---
Sharing Women's History: Exploring New Stories and Formats for Engaging Audiences
Recorded March 25, 2021
Join the Wisconsin Historical Society for a free online panel discussion exploring how women's stories and experiences can be told in new ways. Museums, historic sites, and other cultural organizations can share women's history through special programs, tours, and other storytelling formats. From a broad view of new directions for interpretation at museums and historic sites to strategies for virtual engagement, panelists will share examples of innovative programming and best practices for interpreting complex stories that engage new audiences.
Panelists include Mary van Balgooy, Vice President, Engaging Places, LLC, and Director, Society of Woman Geographers; Meredith S. Horsford, Executive Director, Dyckman Farmhouse Museum; and Brooke Steinhauser, Program Director, The Emily Dickinson Museum.
View a recording of the webinar here.
---
Markers, Monuments, and Meaning - A Webinar Series
While historical organizations have long grappled with how to interpret difficult or contested histories, recent events have added an increased sense of urgency for communities considering the meaning and message of historical markers, monuments, and statues and the critical issue of representation in our built environment. Join us as we invite panels of experts on monumental art, public history, and memory to discuss the meaning of these markers, monuments, and statues in our state and national consciousness and to consider how our built environment can better represent all people.
The panels were moderated by the Ruth and Hartley Barker Director and CEO of the Wisconsin Historical Society, Christian Øverland; professor of history and director of Marquette University's Center for Urban Research, Teaching, and Outreach, Dr. Robert Smith; and UW-Madison's Public History Project director, Kacie Lucchini Butcher.
Learn more about this webinar series here.
Markers, Monuments, and Meaning - A National Conversation
Recorded July 16, 2020
Discuss the historical context of the current controversy and to consider the meaning of these monuments in our national consciousness with panelists Dr. Karen Cox and Ken Lum.
View a recording of the webinar here.
Markers, Monuments, and Meaning - Wisconsin's Built Environment
Recorded August 20, 2020
Learn about the role of monumental art in Wisconsin and investigate the current controversy over historical monuments and markers with panelists Aaron Bird Bear and Kacie Lucchini Butcher.
View a recording of the webinar here.
Markers, Monuments, and Meaning - Change and Community
Recorded October 20, 2020
Explore how engaging diverse and inclusive perspectives creates opportunities to re-envision and democratize the process of creating, sharing, and evaluating monuments and historical markers.
View a recording of the webinar here.
---
Strategies for Fundraising Success during COVID-19
Recorded August 25, 2020
Join Wisconsin Historical Foundation staff members for a roundtable discussion of strategies for fundraising and annual giving during the COVID-19 pandemic as non-profits are navigating uncertain and challenging times. From major gifts and grants, to member support and annual giving campaigns, staff will share examples of strategies that have worked well and what pitfalls to avoid. Participants will have an opportunity to ask questions and share examples from their own organizations during the Q&A portion.
Panelists include Development Director Kristin Borst, Annual Giving Manager Hannah Hankins, and Development Officer Joe Kollar, all of the Wisconsin Historical Foundation.
View a recording of the webinar here.
---
Reopening Wisconsin Museums and Historic Sites
Recorded June 29, 2020
Join the Wisconsin Historical Society for a moderated discussion to share ideas and resources for safely reopening historic sites and museums during the COVID-19 pandemic. Wisconsin Historical Society staff will present an overview of the reopening plan for Society sites and participants can share resources, suggestions, and recent experiences with planning to reopen to the public.
View a recording of the webinar here.
---
The Local History Outreach office also provides links to free webinars presented by partner organizations and continues providing access to the library of recorded webinars. The most timely information on offerings for local history organizations is included in the monthly "What's New in Local History" e-newsletter. If you don't current receive the e-newsletter, sign up by emailing fieldservices@wisconsinhistory.org.
Recordings of all our past local history webinars are available here.
---
Learn More
Resources for Local Historical Societies
Have Questions?
Contact:
Janet Seymour
c/o University of Wisconsin-Eau Claire
105 Garfield Avenue, Hibbard 728
Eau Claire, WI 54701-4004
Phone: 715-836-2250