General Information
Local History Webinars
Online Learning for Local History and Community Organizations
The Wisconsin Historical Society's Local History Outreach office offers local history webinars throughout the year. All local history webinars are free and open to anyone interested in local history and the skills needed to collect, preserve and share your stories.
2020 Webinars
June 29, 2020, 11:00 am (CDT): Reopening Wisconsin Museums and Historic Sites
Join the Wisconsin Historical Society for a moderated discussion to share ideas and resources for safely reopening historic sites and museums during the COVID-19 pandemic. Wisconsin Historical Society staff will present an overview of the reopening plan for Society sites and participants can share resources, suggestions, and recent experiences with planning to reopen to the public.
View a recording of the webinar here.
---
August 25, 2020, 11:30 am (CDT): Strategies for Fundraising Success during COVID-19
Join Wisconsin Historical Foundation staff members for a roundtable discussion of strategies for fundraising and annual giving during the COVID-19 pandemic as non-profits are navigating uncertain and challenging times. From major gifts and grants, to member support and annual giving campaigns, staff will share examples of strategies that have worked well and what pitfalls to avoid. Participants will have an opportunity to ask questions and share examples from their own organizations during the Q&A portion.
Panelists include Development Director Kristin Borst, Annual Giving Manager Hannah Hankins, and Development Officer Joe Kollar, all of the Wisconsin Historical Foundation.
View a recording of the webinar here.
---
Markers, Monuments, and Meaning - A Webinar Series
While historical organizations have long grappled with how to interpret difficult or contested histories, recent events have added an increased sense of urgency for communities considering the meaning and message of historical markers, monuments, and statues and the critical issue of representation in our built environment. Join us as we invite panels of experts on monumental art, public history, and memory to discuss the meaning of these markers, monuments, and statues in our state and national consciousness and to consider how our built environment can better represent all people.
The panels will be moderated by the Ruth and Hartley Barker Director and CEO of the Wisconsin Historical Society, Christian Øverland; professor of history and director of Marquette University's Center for Urban Research, Teaching, and Outreach, Dr. Robert Smith; and UW-Madison's Public History Project director, Kacie Lucchini Butcher.
Learn more about this webinar series here.
July 16, 2020, 3:00 pm (CDT): Markers, Monuments, and Meaning - A National Conversation
Discuss the historical context of the current controversy and to consider the meaning of these monuments in our national consciousness with panelists Dr. Karen Cox and Ken Lum.
View a recording of the webinar here.
August 20, 2020, 4:00 pm (CDT): Markers, Monuments, and Meaning - Wisconsin's Built Environment
Learn about the role of monumental art in Wisconsin and investigate the current controversy over historical monuments and markers with panelists Aaron Bird Bear and Kacie Lucchini Butcher.
View a recording of the webinar here.
October 20, 2020, 5:00 pm (CDT): Markers, Monuments, and Meaning - Change and Community
Explore how engaging diverse and inclusive perspectives creates opportunities to re-envision and democratize the process of creating, sharing, and evaluating monuments and historical markers.
View a recording of the webinar here.
---
Enlarge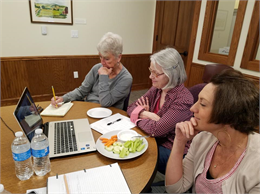 Volunteers Lee Underwood, Donna Read and Aimee Arrigoni, who help maintain the Mount Horeb Area Historical Society's 25,000+ piece collection, take part in a recent Wisconsin Historical Society local history webinar on object labeling.
The Local History Outreach office also provides links to free webinars presented by partner organizations and continues providing access to the library of recorded webinars. The most timely information on offerings for local history organizations is included in the monthly "What's New in Local History" e-newsletter. If you don't current receive the e-newsletter, sign up by emailing fieldservices@wisconsinhistory.org.
Recordings of all our past local history webinars are available here.
---
Learn More
Resources for Local Historical Societies
Have Questions?
Contact:
Janet Seymour
c/o University of Wisconsin-Eau Claire
105 Garfield Avenue, Hibbard 728
Eau Claire, WI 54701-4004
Phone: 715-836-2250