General Information
Local History Regional Meetings
Collaborate. Communicate. Join the discussion.
Enlarge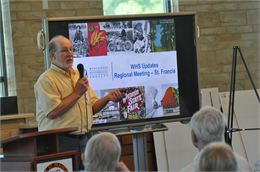 Metropolitan Regional Meeting
Field Services Representative Rick Bernstein provides updates at the Metropolitan regional local history meeting.
Enlarge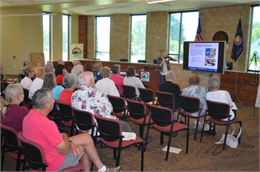 New Museum Project Updates
Field Services Representative Kristen Leffelman introduces plans for a new Wisconsin History Museum.
We invite affiliates of the host region, as well as history and other non-profit organizations in the area, to attend these informative events. Each meeting will feature updates from the Society and Wisconsin Council for Local History, a brief business meeting and elections, plus presentations and workshops on a variety of topics.
2018 Regional Local History Meeting Schedule
Thank you to all who attended our 2018 Local History Regional Meetings!
July 7: St Francis Historical Society, Metropolitan Region
August 17: Brillion Historical Society, Northeast Region
September 7: Deke Slayton Memorial Space and Bicycle Museum (Sparta), Southwest Region
September 14: Northern Great Lakes Visitor Center (Ashland), Northwest Region
September 18: Mount Horeb Area Historical Society, Capital Region
2019 Regional Local History Meeting Schedule
Check back next year for the 2019 Local History Regional Meeting schedule!
Have Questions?
Contact:
Janet Seymour
c/o University of Wisconsin-Eau Claire
105 Garfield Avenue, Hibbard 728
Eau Claire, WI 54701-4004
Phone: 715-836-2250
janet.seymour@wisconsinhistory.org
Save
Save
Save
Save