Resource Description
Wisconsin Survivors of the Holocaust
Oral Histories or 22 Holocaust survivors and two American witnesses
Enlarge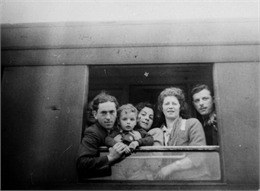 Walter Peltz and Family En Route to the United States, 1949
Hamburg, Germany. Peltz family looking out of the window of a railroad car. View the original source document: WHI 57078
Of the 140,000 Holocaust survivors who came to the United States, more than 1,000 survivors settled in Wisconsin. Archivists from the Wisconsin Historical Society interviewed 22 Holocaust survivors and two American witnesses between 1974 and 1981.
Explore this online oral history collection to hear these survivors recall conditions at Auschwitz, Dachau, Bergen-Belsen and other concentration camps. Learn about their experiences as new American immigrants and get a sense of life in Wisconsin's Jewish communities between 1945 and 1980.
Choose from 24 full testimonies, each with audio and written transcripts
Listen to entire interviews or brief excerpts
See more than 200 photographs donated by the survivors
Find elementary and secondary lesson plans and activities
Browse Online
Explore over 156 hours of audio and 3,400 transcribed pages, as well as photographs and classroom activities, from the "Oral Histories: Wisconsin Survivors of the Holocaust" collection.
Special Thanks
This digital collection was created through the generous financial support of the Helen Bader Foundation of Milwaukee and private donors.
Have Questions?