Resource Description
About Our Labor Collection
Enlarge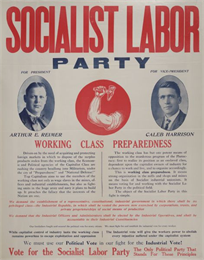 Socialist Labor Party Poster
Socialist Labor Party poster including photograph of Arthur E. Reimer and Caleb Harrison. View the original source document: WHI 23608
Beginning in the 1890s the Wisconsin Historical Society became one of the first institutions in the country to actively collect historical materials related to labor and working class movements. Consequently the Society Library-Archives holds outstanding labor history resources.
Learn more about this collection using the links below:
Collection Overview
Particular strengths of the holdings include working class political, radical and reform movements, the nineteenth century origins of Marxism in the United States, worker education, labor economics and history and the trade union movement.
Library holdings include:
Labor newspapers, periodicals, and pamphlets
Archives collections include the records and papers of:
American Federation of Labor, 1888-1955

International Workingmen's Association

Adolph Germer

John R. Commons

Victor Berger

Socialist Labor Party
The Archives collection also includes records of 11 international unions, including:
The International Association of Machinists

International Brotherhood of Teamsters

The Textile Workers Union of America

United Food and Commercial Workers
How the Labor Collection is Organized
Research materials in the Labor Collection can be found in the Library Catalog. Manuscript collections and photographs from the archives collection along with books, serials and other publications can be found in the library collection.
Search Online
You can do a complete search of the Labor Collection in the Library Catalog.
Search in Person
The Library and Archives are free and open to the public. See more information on Visiting the Library and Archives.
Purchasing Copies
Researchers who cannot visit the Library-Archives may order copies by mail, fax or e-mail. We do not accept orders by phone.
See all details on Purchasing Copies.
Labor Collection Donations
The Society's Archives has been collecting records of organized labor since the early twentieth century. Current collecting focuses on Wisconsin labor organizations, the United Food and commercial Workers International Union and its predecessor unions, addition to other exsiting organized labor collections, and additions to the Socialist Workers Party and Socialist Labor Party collections. See more information on Donating an Item or Collection.
Learn More
Visiting the Library and Archives
Have Questions?
Contact our Library and Archives staff at 608-264-6535 or by email below:
asklibrary@wisconsinhistory.org