General Information
Preserving the Exterior Character-Defining Features of Your Historic Building
Your historic commercial building has many character-defining features. A character-defining feature is one that defines your building's historic nature and purpose. By identifying the form and style of your building and the materials used to build it, you will better understand how best to preserve, maintain, and restore your building. This knowledge will also help you make good decisions if you plan to renovate your building using preservation best practices.
Commercial buildings in Wisconsin can be defined generally by building type and often by a specific architectural style or style influence. Building types can be categorized by the many features that shape the overall arrangement of the facade. The primary facade usually faces the street and serves as the main entrance into the building. The building's features reflect the architectural styles and materials that were common or popular during the building's construction period.
Identify Your Building's Style
Your historic commercial building is not a random collection of individual architectural parts, elements or details. It was designed in a particular architectural style that can be defined by these features:
Building type or use
Building form (one- or two-part)

Massing

Scale
Shape and interior arrangement
Door and window openings
Architectural details, including materials and ornamentation
The features of your building combine to present a unified image. However, it is not uncommon for a building to include elements from two or more architectural styles.
Identify Your Building's Form
You can start to characterize your commercial building by identifying it as either a one-part or two-part building form.
One-Part Commercial Block. A one-part commercial building is one story in height. It displays a storefront with transoms and display windows resting on

bulkheads

(the lower panels on which the windows rest). The space above the storefront may have detailing, such as outlined brick or frame panels, and cornices of sheet metal or

corbelled brick

.

Enlarge

J. Zeutzius Block, 1895

Green Bay, Wisconsin. This brick commercial building is an example of a two-part commercial block building. Source: Photographer Michael Iwinski. View the property record: AHI 31732

Two-Part Commercial Block. Most commercial buildings in Wisconsin can be characterized in form as two-part commercial blocks. These buildings have two primary components: a storefront and an upper facade. An original storefront has display windows resting on bulkheads, transoms and an entrance with a glass or wood door. Many bulkheads have smaller windows or glass block at the sidewalk level that allow light into the basement. The elevated interior light wells form platforms that are well suited for displaying merchandise. The upper facade has one or more floors of windows and decorative detailing such as brick, concrete or

terra cotta

panels, and cornices at the roofline. These buildings are usually two or three stories in height outside of major cities such as Milwaukee, Madison and Green Bay.
Identify Your Building's Historic Characteristics
Each exterior component of your commercial building is a part of the whole. Together, these parts define the historic character of your building. The significant characteristics that define your commercial building may include any of the following:
Height (number of stories)
Width (number of bays, or sections across the facade)
Roof (flat, with parapets or cornices)
Foundation (brick, stone or slab)
Materials (brick, cast iron or other masonry)
Style or design influence
Decorative details such as brick corbelling, cast iron or cornices
Enlarge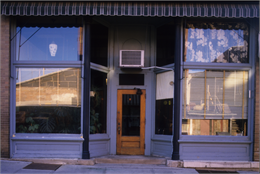 George Wedige Saloon, 1906
Platteville, Wisconsin. Here is one example of a mostly in-tact storefront. The cast iron columns as well as the large transom windows are great period indicators. Source: Photographer Mark Fay. View the property record: AHI 45619
Identify Your Original Storefront Characteristics
If your historic commercial building has an original storefront, count yourself fortunate. The storefronts on many of Wisconsin's older commercial buildings have been lost to later remodeling. The storefront on the first story of your commercial building is visually separated from the upper floors through design and architectural details. This design separation has a purpose: The street level invites passers-by to look into your building's commercial space, and the upper floors are configured as residential or office space that allows you to be inside looking out.
Original storefronts were designed to be as transparent and open as possible. Your storefront might include any of these common components:
Awnings
Display windows
Bulkheads

Pilasters

Entrances

Beltcourses

Cornices
Original storefronts have large display windows so shopkeepers can showcase their merchandise and attract shoppers into their stores. Many storefronts of the late 19th and early to mid-20th centuries feature a recessed entrance, which extends the display area and draws pedestrians into the store. The large display windows of original storefronts typically have wood or copper frames. The display windows rest on bulkheads made of wood, brick, tile or marble.
Many storefronts have transoms above the display windows with rectangular glass panels. Transoms allow heat to escape the building in the summer.
The entrances of historic commercial buildings feature glass and wood doors of single-light or paneled design. Storefront windows often had awnings of metal, wood or canvas to shelter shoppers from the elements and provide shade.
Restore Your Original Storefront Characteristics
The traditional storefront design was widely used from the 1870s to the 1920s, when new materials were introduced and storefront design changed. Not many 19th and early 20th century commercial buildings in Wisconsin have their original storefront. During the 20th century, many business owners removed or concealed their original storefronts. If your original storefront is missing, you can restore this important character-defining feature to your building by removing your modern storefront and restoring its traditional storefront. Be careful when removing pieces of your storefront to avoid damaging any concealed original elements.
Enlarge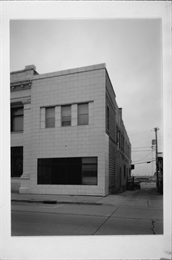 Business Men's Club, 1907
Port Washington, Wisconsin. While some type of metal screen was the most common slipcover, materials such as concrete block were also used to "modernize" a commercial building's facade. Source: WHS - State Historic Preservation Office. View the property record: AHI 680
Some 19th-century and early-to-mid-20th century buildings have storefronts that were remodeled from the 1920s to the 1940s. Commercial building owners were encouraged to "modernize" their buildings by adding deeply recessed entrances with additional display areas. New materials such as pigmented glass, aluminum and stainless steel were used to create smooth and sleek storefront designs to attract customers. These changes reflect the important movement in merchandising and sales of the time period and have become historically significant themselves.
One of the most popular materials from this time period is pigmented structural glass. Most of the pigmented structural glass used in Wisconsin was manufactured by Vitrolite and is still commonly known as "Vitrolite glass." Vitrolite glass was applied as a surface material to storefronts in shades of black, tan, green and occasionally other colors. These glass panels were glued to the structural framework beneath. Another manufacturer of pigmented structural glass was Carrara. Pigmented glass panels have proved to be quite durable and often retain their luster and sheen. However, because these panels are made of glass, they are also prone to cracking and breaking. If your building has damaged pigmented glass, you may be able to find replacement pieces through a web search.
Enlarge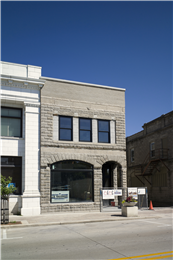 Business Men's Club, 1907
Port Washington, Wisconsin. The concrete block was removed to restore the building's original design and materials. Source: Photographer Mark Fay View the property record: AHI 680
By the 1950s, many of Wisconsin's new downtown buildings were designed with a number of materials for use on commercial facades, including porcelain panels, concrete panels, plastic laminated panels and glass curtain walls. Some of these materials are no longer manufactured, so you may find it challenging to repair or replicate them. You might be able to find appropriate materials from a salvage yard or on the web.
Identify Features of Your Building's Upper Facade
The upper facade above your storefront may have decorative detailing that helps to define the style of your building. If your building is one story, it might have some type of decoration in the space above the storefront or a decorative cornice at the roofline. If your building is two or more stories, it might have window openings that allow light into the upper floors plus a cornice or other kind of decoration at the roofline.
Wisconsin's many Italianate-style commercial buildings often feature rounded, arched or rectangular windows on the upper floors, and with hood molding and bracketed wood or metal cornices at the roofline. Early 20th century commercial buildings began to reflect the classical styles of the time period, or they became more functional in design with restrained detailing.
Follow Best Practices
When you are making maintenance and renovation decisions about your historic commercial building, follow these best practices:
Preserve and maintain the architectural and historical character of your commercial building.
If your original storefront or upper facade details are damaged, repair them with similar materials and in keeping with the original design.
If you cannot repair a damaged or deteriorated feature, replace it with a feature that has a similar design and material.
If you cannot get an exact replacement material, use a material that replicates the original as closely as possible in appearance, color and texture.
If your original storefront is missing, rebuild a new storefront based on a traditional storefront design.
If your building's original upper facade is concealed behind metal panels or other materials that were added to "modernize" your storefront, restore your storefront's original appearance.
When you are rehabilitating your building, try to take advantage of the available federal and state historic tax credits.