General Information
Maintaining the Glass Storefront on Your Historic Commercial Building
If you have sheets of glass on the front of your historic commercial building in black or other colors, your glass panels could be pigmented structural glass. Pigmented structural glass is an important historic building material that you should preserve and maintain. Whether the structural glass in your historic commercial building is original or added, it contributes to the character of your building.
Identify Your Structural Glass
Structural glass consists of glass sheets or panels that are shaped and pigmented, then glaze-fired. Structural glass was introduced beginning around 1920 to achieve a new "modern" look for buildings. The Art Deco and Moderne architectural movements of this time period embraced the sleek designs of new technology and imitated the smooth, curved surfaces of automobiles and airplanes. Structural glass was most often used in storefront designs. However, the entire exterior facade of some buildings was covered with structural glass.
Enlarge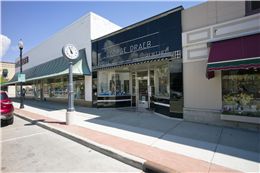 George Draeb Jewelry Store, 1935
Sturgeon Bay, Wisconsin. Because Carrara glass came in many colors, often times, contrasting colors were used to elevate the storefront design. Source: Photographer Mark Fay. View the property record: AHI 49715
Pigmented structural glass, popularly known under such trade names as Carrara glass, Sani Onyx (or Rox) and Vitrolite glass rapidly became a favorite building material of architects and designers of the time. The versatility of pigmented structural glass contributed to its popularity. Not only could the material be applied to both the exterior and interior, the glass could be sculptured, cut, laminated, curved, colored, textured and illuminated. Structural glass panels could be fitted together to outline a display window, used as a veneer for bulkheads or added as decorative detailing for an upper facade.
Enlarge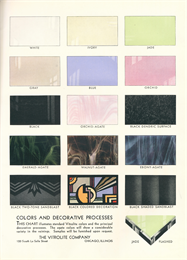 Here you can see the many colors the Vitrolite Company offered for their structural glass components. Source: 1932 Sweets catalog, page B2483.
Some structural glass was formed into thick, clear blocks and used to build entire walls of interior and exterior glass. These blocks were shaped into square or rectangular cubes with smooth or ridged surfaces. The blocks were cemented together to create solid components of storefronts and upper facades. The thickness of these blocks made them translucent rather than transparent, but they still allowed light to enter the building. Structural glass blocks were often employed as windows in industrial buildings and residential basement windows.
Preserve Your Original and Added Structural Glass
Although structural glass could have been added to your building to conceal the building's original historic surface, your structural glass can still be considered a historic feature. Most structural glass was installed long enough in the past that it can now be considered historic. The popularity of structural glass coincided with new marketing approaches for storefronts. From the 1920s to the 1940s, many Victorian-era building storefronts were remodeled with new display windows, recessed entrances and new materials such as structural glass. The new veneer of pigmented structural glass defined a building's architectural character as new and up-to-date.
Maintain Your Structural Glass
If you own a commercial building with structural glass, you should take measures to keep water away from your structural glass. If the seals between the glass panels become loose or cracked, water could enter and deteriorate the anchoring system behind the panels. Ensure that your building has sufficient drainage to conduct water away from the exterior walls. Part of your building's ongoing maintenance should include repointing and caulking of cracked or open joints, especially where the base of the glass panels meets the sidewalk. Use a silicone compound to seal cracked joints. You can match the original color by mixing the silicone compound with tinted polyester resins.
Repair Your Structural Glass
If your historic commercial building is missing a structural glass panel or has a badly damaged glass panel, try to replace the panel with a similar panel. You may be able to find a replacement glass panel from a salvage company or a company that specializes in buying and selling these materials.
You may be able to remove and replace a glass panel yourself, but this work might require the use of acetone or other commercial solvents to remove hardened mastic adhesive. Also, you should use the traditional mastic adhesive from the original installation time period to install your new glass panel, because newer adhesives present a variety of issues.
Follow Best Practices
Enlarge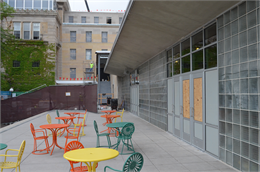 UW Madison - Memorial Union, 1928
Madison, Wisconsin. Glass block was used on the east and west elevations of the 1938 building addition to the Memorial Union. Source: Photographer Ginny Brown. View the property record: AHI 106834
When you are making maintenance and repair decisions about the structural glass on your historic building, follow these best practices:
Preserve and maintain your historic structural glass storefront and upper facade.
Do not cover your structural glass storefront and their components with modern materials.
Seal cracks in your structural glass panels and tint them with silicone compounds.
Repair your deteriorated or damaged structural glass components with in-kind materials. Look for in-kind materials from salvage companies or search the web for companies that specialize in these materials.