General Information
Streetscaping and Your Historic Commercial Building
Enlarge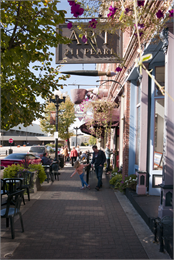 LaCrosse, Wisconsin. The addition of appropriate street landscaping, receptacles, lights and sidewalk paving can make a significant impact within the historic district. Source: Photographer Mark Fay.
The appearance of the block or business district where your historic commercial building is located influences the number of people who visit your business. Elements such as the pavement, sidewalks, other buildings facing the street, trees and landscaping, lampposts, benches, garbage containers, curb cuts and street signs all combine to create the streetscape view. Ideally, the elements of your streetscape will collectively convey a unifying and inviting appearance that adds to the appeal of your downtown district.
You may not have direct influence over many elements of your historic building's streetscape. However, if you consider the value of the streetscape on your downtown business, you will appreciate the urban planning decisions and municipal code regulations that encourage good streetscaping in your community.
Early Streetscape Development
In the 19th century, the downtown sidewalks and streets in most Wisconsin communities were made of dirt. These dirt sidewalks and streets were either dusty or muddy depending on the weather. As communities developed, they added wood planks to their sidewalks. The wood planks were replaced with brick and concrete sidewalks in the late 19th and early 20th centuries. Streets were paved with cobblestones or brick, and eventually with concrete and asphalt.
Most commercial buildings were constructed directly adjacent to the public sidewalk. As a result, communities saw little need to install retaining walls or similar features. After World War II, many Wisconsin communities financed public improvements, such as street and sidewalk upgrades and underground electric power lines.
Streetscaping as a Means of Revitalization
From the 1950s to the 1970s, urban renewal projects in larger cities often replaced buildings with new parks and plazas. Downtowns lost business to the new shopping centers and malls that appeared in new suburban areas and along the expanding major highways. Some Wisconsin communities responded by closing their downtown streets to create pedestrian malls. As part of downtown revitalization efforts, many Wisconsin communities undertook streetscaping projects in the late 20th and early 21st centuries. These projects typically involved adding street trees and planters, rebuilding concrete and brick sidewalks, and adding benches, streetlamps, information signs and garbage receptacles.
In conjunction with streetscape improvements, many downtowns have also added Americans with Disabilities Act (ADA) compliant sidewalks, curbing and street crossings. These include sloped curbs with textured surfaces for wheelchairs, audible signals for crossing streets and designated handicap parking and ramps.
Best Practices
Enlarge

In some instances, historic street lighting is still in place. Repair these lights when possible. Source: Phil Thomason.
You can encourage good streetscaping in your community by following these best practices and encouraging others in your community to follow them:
Protect and maintain the historic character of your streetscape. Retain the distinctive historic features, such as buildings and street lights, that give your streetscape and/or district its distinguishing character.
Design new streetscape elements to be compatible in scale, design and style with the surrounding environment. New streetscape elements that you introduce to a historic area should be simple in design and compatible with the appearance and scale of adjacent buildings, structures, and public spaces. These elements include street furniture, street lights, trash receptacles, bike racks, planters and landscaping. Curb cuts, driveways and off-street parking should be carefully planned to protect the historic character of the streetscape and/or district.

Enlarge

In order to provide equal accessibility to all buildings within the historic district, install cut curbs at all intersections. Source: Phil Thomason.

Ensure that all streetscape elements work together to create a coherent visual identity and public space. Maintain the visual cohesiveness and historic character of an area by using historic and complementary materials. If it is not feasible to use a historic material, use a compatible substitute material.

Enlarge

ADA curb cuts can be designed with brick paving to more closely match historic sidewalks. Source: Phil Thomason.

Incorporate ADA-compliant features when undertaking streetscaping improvements. Your downtown streetscaping plans should include the addition of ADA-compliant curbs, crosswalks, sidewalks and other features to make downtown businesses accessible to everyone. Support for these measures will encourage patronage of downtown businesses.