General Information
Adding Space to Your Historic Commercial Building
As your business grows, you might find a need for more space than your historic commercial building can provide. An addition can fill this need. Your addition might involve expanding the footprint of your building or constructing a rooftop addition. When you are designing an addition for your building, you should seek ways to minimize any negative effects to the historic fabric of your building as well as to its character and setting. The design and construction of your addition should not radically change, obscure or destroy any character-defining feature of your building. The new design should complement the original design and style of your building, but it should still be distinguishable as a new element and not part of the historic fabric.
Preserve Significant Historic Materials and Features
When you build a modern addition, preserve as much of the fabric of your historic building as possible, including significant materials and features. Connecting a new addition to a historic building always involves some material loss to an external wall or roof. Therefore, you should choose a location for your addition that will minimize the loss of historic materials. Frequently the best location for an addition is the secondary side or rear elevation of a building. For both economic and social reasons, the rear and side elevations of a building were often constructed of "common" material and were less architecturally ornate or detailed.
Typically the only way a downtown commercial building can be enlarged is through a rear, lateral or rooftop addition. Most commercial buildings are already built to the sidewalk level, so an addition to the primary facade is impossible. Even if your building is set back from the sidewalk, you should not add to the primary facade or remove any historic features.
Design an Addition to be Distinct
Your addition should be designed to look like it is from the time period of construction for your historic building. However, it should not copy the architectural features of your building. You should make it clear through your use of materials and design elements that the new addition is distinct from your original structure and therefore not historic. Even subtle differences in materials or detailing can help differentiate the addition from your original building.
Design an Addition to be Secondary to Your Original Building
You should design your addition so that it does not detract from or overwhelm the scale and massing of your historic building. To meet the Secretary of the Interior's Standards for Rehabilitation, your new addition must be "compatible with the size, scale, color, material and character" of the building to which it is attached or its particular neighborhood or district.
Enlarge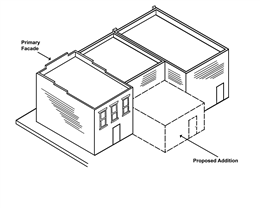 Additions to the rear of a building are typically appropriate as they do not detract from the street façade - make sure the new addition is not taller than the historic building. Source: WHS - State Historic Preservation Office
Any addition you make will change the size and scale of your historic building, but you will minimize its adverse visual effects if you place your addition at a rear elevation or add recessed lateral wings. If you have sufficient space on a rear or lateral elevation, you can link the addition to your building with a hyphen or connector. A connector that is minimal in size and visually unobtrusive can be especially effective at distinguishing an addition from your historic building.
In some circumstances, increasing the square footage and height of a historic commercial building may be an appropriate alteration.
Enlarge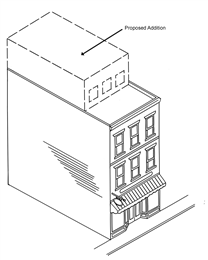 Roof top additions should not be visible from the public right-of-way and therefore not allowed on buildings less than three stories in height. The addition should also be located at the back half of the historic building. Source: WHS - State Historic Preservation Office
A rooftop addition should be limited to a single story and avoided on buildings of three stories or less in height. In addition, a rooftop addition should be:
Small in scale.
Recessed from the main facade to maintain the appearance of the original height and roof design.
Not readily visible from the sidewalk on the opposite side of the street.
Follow Best Practices
When you are planning an addition to your historic house or commercial building, follow these best practices:
Design your addition in keeping with the historic character of your building. Design your addition to be compatible with your original building in scale, proportion and rhythm. Situate the addition to preserve the massing and orientation of your building. The footprint of the addition should not exceed the footprint of your historic building, nor should the height of the addition exceed the height of your historic building. Choose elements such as roof form, window design, ratio of solids to voids, materials and general form that complement your original building. Design the addition to be distinguishable from your historic building.
Do not obscure or damage significant architectural features. Your addition should cause minimal damage to significant materials and minimize the overall loss of historic walls, roofs and features. Ensure your addition's design and placement do not obscure or damage significant architectural features, including cornices and parapets. If possible, use an existing opening to connect the addition to your building.
Design your ground-level addition to be physically and visually subordinate to your historic building. Do not locate a ground-level addition at the front of your building. Place an addition to the rear of your building or set back from the front wall plane to allow the original proportions and character of your historic building to remain prominently visible from the street. If you must install a lateral addition, set it apart from your historic building and use a connector or hyphen to link the two.
Design your rooftop addition so it does not adversely affect the architectural proportions of your historic building. Design your rooftop addition so it is smaller and recessed from your original building to maintain your historic building's profile when viewed from the street. Your rooftop addition should appear subordinate to your building in form, height, massing, materials and color. Do not allow the rooftop addition to overwhelm or overhang your building's facade. Mimic the roof form of your original building in the rooftop addition. For example, if your original building has a flat roof, make the addition's roof flat as well. If the rooftop addition includes a deck or patio, set the safety railings back from the building edge far enough so they cannot be seen from the street below. Do not mount handrails on parapet walls.