General Information
Enhancing Your Historic Commercial Building with Awnings
Enlarge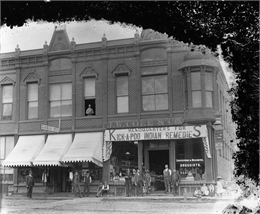 Black River Falls, Wisconsin. In this historic photo, large, retractable awnings were used at the storefront level to shade direct sunlight from entering the large windows, but also provide protection from inclement weather. Source: WHS Archives. View the original source document: WHI 23011
Many historic commercial storefronts were designed with fixed wood or metal awnings, or with retractable cloth or canvas awnings, to shelter pedestrians from the elements. Awnings provided shade and helped cool commercial buildings before the invention and installation of air conditioning.
Some original wood and metal awnings still exist on storefronts thanks to the care and maintenance of their owners. If your building has an original wood or metal awning, it is an important character-defining feature that you should maintain regularly. Cloth and canvas awnings typically lasted only five to ten years, so none of these materials from the 19th and 20th centuries have survived. However, if your building was originally designed with a cloth or canvas awning, you may still have the original mounting hardware on your storefront.
If your storefront no longer has awnings, you might consider adding an appropriate historic awning to your building. Awnings not only shelter the people who visit your building, but they can also lower your energy costs because you won't have to run your air conditioning unit as much during the summer.
Best Practices
Enlarge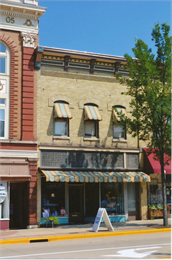 184 West Main Street
Stoughton, Wisconsin. Shed awnings such as the ones found on this building were quite typical. Notice the retractable awning at the storefront level. Source: WHS - State Historic Preservation Office. View the property record: AHI 93721
If you decide to add an awning to your historic commercial building, follow these best practices:
Choose an awning with a traditional design. When you buy a new awning for your historic building, choose one with a traditional style that is appropriate for your building. Shed-style awnings are the most appropriate for rectangular openings, and arched awnings are the most appropriate for arched openings. Flat metal awnings are appropriate on mid-20th century storefronts. Avoid applying a bubble, concave or convex awning to your building unless you have evidence that your building originally had this style of awning. Internally lit awnings and vinyl awnings are discouraged. Select awning colors that are compatible with and complementary to your building.
Choose an awning made of traditional materials. When you buy a new awning for your historic building, choose one that is made of a traditional material such as canvas or metal. Avoid applying an awning made of plastic, wood shingles or any other non-historic material.

Enlarge

Madison, Wisconsin. If your building has arched-top windows, awnings can be made to shade direct sunlight while enhancing this architectural feature. Source: Photographer Mark Fay.

Place your awnings so that they do not cover or detract from the architectural features of your building. If your building has pilasters or columns on its storefront, place your awnings in the spaces between these architectural features rather than across your entire storefront. If your building has a long storefront with multiple openings, you should place an awning over each opening instead of one single, long awning across the storefront. Your upper façade windows are also appropriate locations for awnings.