General Information
Preserving Pressed Metal Ceilings in Your Historic Building
Enlarge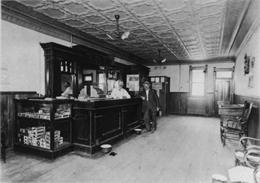 Saloon Interior
Sturgeon Bay, Wisconsin. Decorative tin ceilings as seen in this saloon were commonly used during the early 20th century. Source: WHS Archives. View the original source document: WHI 93797
If your historic house or commercial building retains an original pressed metal ceiling, it is an important character-defining feature that you should preserve. Pressed metal ceilings, also called "tin ceilings," peaked in popularity around the end of the 19th century. They were available from more than three dozen manufacturers. Hundreds of patterns were available from around 1880 up to the 1930s, when they fell out of style.
Although these pressed metal ceilings were called "tin" ceilings, they were never made of pure tin. Instead, they were steel-coated with tin. Tin is a light element often used to coat other metals. Pressed metal was popular because this material was not only widely available, but also relatively inexpensive.
Uses of Pressed Metal
Enlarge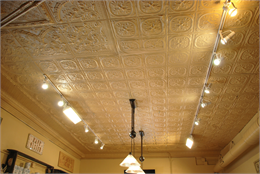 Madison, Wisconsin. Decorative tin ceilings contribute to the overall character of commercial spaces and should be retained. Source: Photographer Mark Fay.
The most common use of pressed metal was on commercial building ceilings, and sometimes on the ceilings of residential homes. Occasionally pressed metal was applied on a wall as a wainscot or a full wall covering. Sheets of metal were tool-pressed to create intricate design patterns in a wide variety of floral and classical patterns. The decorative metal was painted white and gave the appearance of plaster molding on the ceiling of a room.
Hidden Pressed-Metal Ceilings
Enlarge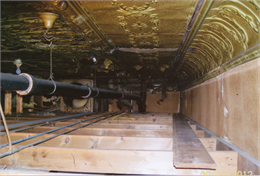 Fritz Hoppe Building, 1907
Platteville, Wisconsin. Original tin ceilings were often left in-tact when newer mechanical or plumbing was installed. When rehabilitating commercial spaces, carefully remove the various ceilng layers - you may find original material. Source: WHS - State Historic Preservation Office. View the property record: AHI 45623
Many original pressed-metal ceilings were concealed in the 20th century when house and building owners installed modern heating and cooling systems. One of the easiest ways to install a new heating and cooling unit and its ductwork was to add a "dropped" or suspended ceiling from the original ceiling. The ductwork was concealed in the space between the two ceilings.
Because pressed-metal ceilings were so common in historic commercial buildings, there is a fair chance that your commercial building was constructed with one. If your house or commercial building has a dropped ceiling or other type of non-historic ceiling material, you may want to remove a section to find out if an original pressed-metal ceiling is hidden above. If your house or building has an original pressed-metal ceiling, you may want to preserve it in place or remove the dropped ceiling and restore the original.
Pressed-Metal Ceiling Restoration
When you are restoring your original pressed-metal ceiling, you may encounter these two common issues: deterioration of the paint surface and rusting due to water infiltration.
If the only issue you face is peeling paint and a few rust spots on the metal surface, you can solve this issue yourself. Be sure to wear protective gear when you remove the paint, because it is likely that the ceiling will contain at least one coat of lead paint. Use a chemical paint remover to remove the paint.
CAUTION: DO NOT use a heat gun to remove old paint that you suspect may contain lead. Using a heat gun in an enclosed space can be lethal, because heated lead releases a poisonous gas. Hand scraping or sanding in an enclosed space is also not recommended because these methods can release airborne lead containments.
When you have removed all of the paint from your pressed-metal ceiling, use a rust remover to remove any rust spots. Gently buff the ceiling using steel wool or a buffing attachment on your high-power drill. To repaint pressed-metal ceiling, apply primer first and then semi-gloss, oil-based paint.
Pressed-Metal Ceiling Replacement
If your pressed-metal ceiling is extensively rusted or missing sections of panels, you will have to remove the damaged sections and install replacement panels that match the original. Several companies continue to manufacture pressed-metal ceilings in a variety of patterns; you can find one of these companies by searching the web. You may also be able to take one of your original panels to a metal shop and have new panels fabricated to match the original.
TIP: Always determine the source of water filtration and fix the problem before you install replacement pressed-metal ceiling panels.
Best Practices
If your historic house or commercial building has an original pressed-metal ceiling, consider following these preservation best practices:
Preserve and maintain your original pressed-metal ceilings. The pressed-metal elements of your historic house or commercial building are significant features that you should preserve and maintain. Do not cover or remove these features.
Clean your pressed-metal elements with the gentlest means possible and keep them free of rust. If your house or building has experienced extensive water infiltration, your original pressed-metal ceiling will show signs of oxidation (rust). You should clean soft metals such as tin, bronze, lead and copper with appropriate chemical methods, because their finish can easily be damaged with abrasive methods. If these methods are not effective, low-pressure dry grit blasting (less than 100 pounds per square inch) may be appropriate.
Replace pressed-metal panels with in-kind substitutes. Replace your damaged and missing pressed-metal elements with in-kind or substitute materials. Use a surviving example (or sufficient documentation if it is available) to create for an accurate replacement for the original. Search the web for one of the several companies that continue to produce pressed-metal ceilings and their components.