General Information
Adapting Your Historic Building for a New Use
You can adapt the interior of your historic commercial building for a new use and still preserve your building's essential architectural character. When you adapt your building for a new use, it is likely you will need to use your building's floor space in a different way than it was used in the past. Although the floor plan and interior spaces are important in defining the character of a historic building, you can preserve these spaces in your building with many new uses. For example, your building may have been built with open floor space on the first floor and the upper floors. This type of open floor plan is ideal for businesses such as retail shops, restaurants and offices. You can retrofit your upper floor space for living space, such as apartments and condominiums.
You may want to consult an architect to determine the best ways to maintain the historic character, features and materials of your building when you are adapting it to a new use.
Best Practices
Enlarge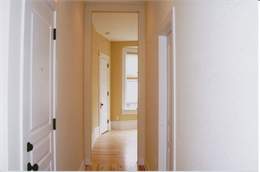 W.T. Lyle Building, 1890
Waukesha, Wisconsin. Upper floors of historic commercial buildings can be an appealing location for people looking to live in downtown environments. Source: WHS - State Historic Preservation Office. View the property record: AHI 28714
As you are planning to adapt your historic commercial building for a new use, keep in mind the following preservation best practices:
Maintain the primary spaces of your building. You should make it a top priority to maintain the primary spaces of your commercial building. These spaces include the floor space that is open to the public, possibly a foyer or lobby, staircases and the upper floor spaces with their original partition walls. If you plan to use federal and state tax credits for a substantial

rehabilitation

project, you will need to preserve and maintain the important public spaces of your building to qualify for the credits. Each

character-defining feature

in these primary spaces is important, so you should respect these features in every rehabilitation project you undertake. However, this does not mean you cannot change the floor plan. For example, you can retain your building's sense of open floor space by having wide, full-height corridors and rooms with large spaces, rather than a series of small ones. Limit any

demolition

to the secondary spaces or areas of extreme deterioration.
Maintain the historic volume of your building. When you are adapting the interior space of your building it is important to maintain the original ceiling height. High ceilings and ceiling fans helped to heat and cool historic buildings. By retaining your original ceiling height, you will convey the historic character of your building and help to define its spatial volume. It is not appropriate to install a new ceiling at a lower height, especially if this will affect your windows and doors. Some lowering of ceiling heights may be appropriate in secondary areas to accommodate new mechanical systems.
Avoid falsifying history. Your adaptation of your building's interior space should be compatible with its existing historic character. Avoid creating exact duplications of historic materials and elements that would cause confusion between the historic and new elements. This is often referred to as "falsifying history." For example, when you are planning new walls or other partitions, use new trim that matches the historic trim in scale, material and general profile rather than replicating the historic woodwork.
Retain and preserve your original floor plans. Preserve the size, configuration, proportion and relationship of the rooms and corridors of your building. You should also retain the relationship of important features to these interior spaces as well as the spaces themselves. For example, you

Enlarge

First National Bank, 1873

Chippewa Falls, Wisconsin. This historic building was originally a bank, but now serves downtown Chippewa Falls as a jewelry store. Note the original ceiling, decorative columns and marble wainscoting. Source: Photographer Mark Fay View the property record: AHI 3155

should retain a ticket booth in a theater building or the lobby in a hotel or restaurant.
Avoid subdividing your interior spaces. Although the floor space of your building might be important in defining its original use, you can create a visual effect of subdivision by inserting partial-height partitions that will still allow visitors to visualize the whole original space. Your building may already have partitions in the upper floor space if it was previously used for offices. If these are original to your building, you can retain them if they suit your new use. You should only consider adding new floors if they will not damage or destroy the structural system of your building, nor obscure, damage or destroy character-defining spaces, features or finishes. If your building has been subdivided through an earlier insensitive renovation, consider removing the partitions and restoring the room to its original proportions and size.
Avoid making new cuts in your floors and ceilings. If you create new cuts in your floors or ceilings, you could change character-defining spaces and their historic configuration. It may be appropriate to insert a new lightwell in an existing interior space that is not historically or architecturally distinguished. You should not remove areas of your ceilings or floor plates where the floor intersects the exterior wall around the perimeter of your building. You should only consider this type of removal in the interior bays of your building.
Do not cover or conceal your building's character-defining features.

Avoid additions or alterations that change the historic identity of your building. Your historic building has an identity, and the new work you do should respect that identity. For example, if you are rehabilitating an industrial building into apartments, you might install exposed spiral mechanical ductwork and leave the exposed brick walls visible in keeping with the building's original industrial identity. However, if you were rehabilitating a historic hotel, it would not be appropriate to use exposed spiral ductwork in your project. Historically, a hotel was a finished space, so any new work in a hotel should have a finished appearance.