General Information
Adapting Your Historic Building to Comply with the Americans with Disabilities Act (ADA)
If you own a historic commercial building that contains an office, retail store, restaurant or other use that is open to the public, you may be required to provide access to your building that complies with the Americans with Disabilities Act (ADA). The ADA is a federal civil rights legislation passed in 1990 that established minimum accessibility requirements for all buildings. Historic properties are not exempt from ADA requirements. Historic buildings must be as accessible as non-historic buildings to the greatest extent possible. To meet these standards, you should work with an architect who knows the applicable building codes and will be sensitive to preserving the historic character of your building.
Minimum Standards for ADA Compliance
To comply with the ADA, a commercial building must meet these minimum standards:
Provide at least one accessible route that complies with ADA rules from a parking lot to an accessible entrance.
Provide at least one publicly accessible entrance that complies with ADA rules.
Provide at least one toilet facility (if toilets are present) that complies with ADA requirements along an accessible route.
Provide accessible routes from an accessible entrance to all publicly used places on at least the level of the accessible entrance (whenever practical).
Locate displays, written information, documents and other materials where they can be seen by a seated person.
Adaptations that Threaten Historical Significance
When the ADA law was passed, Congress established alternative requirements for properties that cannot be made accessible without "threatening or destroying" their historical significance. If you believe that meeting ADA specifications would "threaten or destroy" the significance of your property, you can begin a consultation process with local and state government agencies. The architect you hire will advise you on which agency you should consult. If the consulting agency determines that compliance with the minimum ADA requirements would threaten or destroy the historical significance of your property, you and your architect can work with the consulting agency to design an appropriate accessibility solution.
Adaptations for Building Access
Enlarge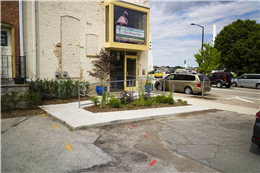 Frank DeBoth Building, 1887
DePere, Wisconsin. The business located on the first floor created an accessible entry at the rear of the building with a sloped walkway. Source: Photographer Mark Fay View the property record: AHI 79530
Access to most downtown commercial buildings is provided through doors at the sidewalk level. The ADA requires a 32-inch clear opening when a door is open 90 degrees. Most doors are 2 inches or less in thickness, so a 34-inch door opening would meet the requirement. Most commercial building doors are 34 to 36 inches wide and therefore would meet ADA requirements.
The interior of your building must have accessible routes to the publicly used spaces and an accessible bathroom. If your building has steps or different levels, you can provide access to these areas with temporary ramps or construct a permanent ramp. If you adapt a historic house for an office, shop or other public use, you can also provide access with a temporary or permanent ramp.
Cost of ADA Compliance
Your efforts to meet ADA requirements do not necessarily have to be expensive or involve extensive changes. By reviewing your building's means of access and the configuration of interior spaces, you can often devise ways to comply with the ADA without compromising your building's historic character. Some ADA-compliance changes that are easy to achieve include installing a ramp, creating accessible parking, adding grab bars in bathrooms and modifying door hardware.
The ADA includes a 20% "disproportionality" rule that pertains to the expenses for making an area accessible. Under this requirement, your costs associated with making a primary space in your building accessible is limited to 20% of the project expenses to alter that primary area. This means that if you spend $10,000 to renovate your primary space, you are not required to spend more than $2,000 on expenses related to making that space accessible to restrooms, telephones and drinking fountains. Any costs above the 20% mark are considered disproportionate and therefore are not required.
Best Practices
When you are making plans to renovate your historic commercial building to meet ADA requirements, follow these best practices:
Preserve significant features of your historic building. You should begin your ADA compliance efforts by determining the historical significance of your building. If your building is listed on the

National Register of Historic Places

, contact your

State Historic Preservation Office

to see your building's original nomination documents. The nomination will include information about the significance of the building and its character-defining architectural features. Prioritize the protection of these features, original materials and spaces when you prepare your ADA accessibility plan.
Minimize the impact to your building's primary spaces. Develop a plan for your building's primary interior space that minimizes the impact to its historic character. You can modify the secondary spaces without compromising your building's historic character. Work with local disability groups, historic preservation consultants and local building inspectors to devise the best accessibility plan for your building. Careful planning and creative design decisions can accommodate the greatest level of accessibility with the least impact to your building.
Identify your historic building's barriers to ADA compliance. Evaluate your building's existing accessibility status and define the additional requirements necessary to meet the ADA. The architect you are working with will have the knowledge and experience to complete a building survey that will identify barriers or encumbrances, such as ground surface texture, grade, width of passageways, entrances and doors, restrooms and parking. He or she will be familiar with all federal, state and local ADA codes. You can also contact your local building code office or consult the online ADA Accessibility Guidelines (ADAAG).
Preserve your original doors and other entrance elements. Generally, you should not replace your original historic doors or alter your original building entrance. Most commercial building entrances can easily meet ADA requirements with minimal alterations. You can install one of several devices that will improve accessibility to your building without altering the appearance of your entrance. These devices include an electronic eye to open the door automatically or a push button. If your building's door and entrance area have already been altered, you may want to consider designing a new ADA-compliant entrance before you take a more extreme measure, such as adding a new secondary entrance.
Add a ramp.
Enlarge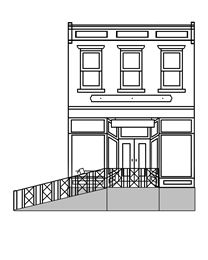 Installing ramps at the front facade is not appropriate as it greatly alters the building's historic appearance. Source: WHS - State Historic Preservation Office
One barrier to accessibility that you might need to address with your building is a sloping grade. You may be able to solve this issue with a ramp. Usually you would not place a ramp on the primary façade of your historic building, so you can incorporate a ramp into your building's design effectively without an extreme visual impact. Your door thresholds should be no more than ½ inch in height to allow for accessibility. If your original threshold has been deemed as historically significant, you can install a bevel design to facilitate accessibility.
Provide convenient parking. If you are providing parking for your building's patrons, it should be as convenient as possible for people with disabilities. Consult your city's planning department for parking requirements and practices for people with disabilities. You can make modifications to your parking configuration and pathways to improve accessibility without altering your significant landscape features.
Create an accessible route to your building. You must provide a path from your designated parking area to your building's entrance that is wide enough to accommodate visitors with disabilities. The conventionally used width is 36 inches. The path must be appropriately graded and have a nonslip surface. You can improve an existing surface with a new base and paving materials. Provide clear directional signs to mark the path from your parking area to your building.
Upgrade your restrooms.
Upgrade your interior building signage. The ADA includes provisions to standardize wayfinding building signage and mounting locations. This standardization allows the visually impaired to know where to look for signage in any building. All of your wayfinding signs must include braille and a raised symbol with a contrasting background and foreground. Your signs should be centered five feet above the floor and located 6 inches away on the strike side of the door. Standard ADA-approved signage is readily available and reasonably priced through multiple vendors.
Install accessible fixtures. Make certain that people with disabilities who visit your building will be able to see and reach fixtures such as public telephones, water fountains, shelving counters, display space, elevator buttons and door handles. Provide signs that clearly mark the route to restrooms and telephones.