General Information
Restoring or Rebuilding a Historic Storefront
Enlarge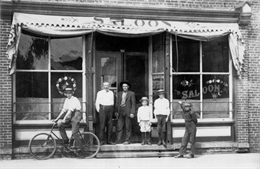 Stevens Point, Wisconsin. Historic photos are invaluable when planning a storefront restoration or reconstruction. Source: WHS - Archives. View the original source document: WHI 56215
If you own a historic commercial building, you may find that your building's original storefront is missing. Your storefront may have been replaced with a design and materials that are not keeping with the rest of the building's architectural character. During the mid-20th century, many original storefronts disappeared from Wisconsin's downtowns. Older buildings were often "modernized" with new storefronts to reflect the current architectural trends.
In recent years, a new trend has emerged — the restoration of traditional storefronts as part of efforts to revitalize downtown commercial areas. You can support these efforts in your own downtown by removing your building's modern storefront and restoring its traditional storefront. You can get financial assistance for your efforts by using state and federal historic tax credits. Your community might also have a facade grant program to help you restore your original storefront.
Get Familiar with Traditional Storefront Design
Before you plan the restoration of your original storefront, you should get familiar with the elements of traditional storefront design. Traditional storefront designs of the 19th and early 20th centuries were remarkably consistent across the state up to the 1930s, so they provide a relatively easy template to follow for a rebuilding project.
Your storefront is an important character-defining feature of your historic commercial building. Your storefront is the first story of your building's primary facade. It should be visually separated from the upper floors of your building through design and architectural details. A traditional storefront typically contains these elements:
Awnings
Display windows

Bulkheads

(also called kickplates)

Pilasters

Beltcourse

Cornices
Entryway that is recessed and integrated into the building's architectural design
Many storefronts of the late 19th and early to mid-20th centuries featured a recessed entryway. This design extended the display area and drew pedestrians into the shop. Large display windows allowed shop owners to showcase their merchandise and entice customers into their stores. Many of these storefront display areas were raised on frame or brick bulkheads to display the merchandise closer to eye level. Decorative materials such as marble, tile or tinted glass were sometimes applied to the front of the bulkheads. Some bulkheads contain short windows that were installed to allow light into the basement areas of the building.
The display windows on a traditional storefront were large sheets of glass joined together with wood, copper or aluminum frames. Many storefronts had a frame transom bar and one or more transom windows above the display windows. Canvas awnings, used to shelter pedestrians, were common. The structural system used to support a storefront might be wood or brick piers, or cast iron columns and pilasters. Doors were made of glass or wood.
Plan Your Restoration Based on the Original Storefront Design
Enlarge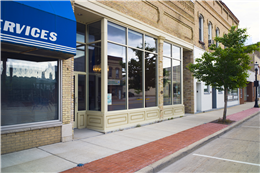 Minnich/Messing Double Store Building, 1882
DePere, Wisconsin. When an original storefront has been completely removed, a new storefront can be recreated from historic photos. Source: Photographer Mark Fay View the property record: AHI 121327
The most accurate way to rebuild your storefront is to base the new design on the original design. You can often rebuild your storefront using photographic or other historical documentation and examining any remaining physical evidence. You might first check with previous owners to see if they have any historic photographs that show a design you can copy for your restoration.
Many communities hired photographers in the late 19th and early 20th centuries to take pictures of downtown buildings and streetscapes. In addition to photographs, commercial building owners also employed artists to make renderings of their buildings. These drawings sometimes ended up in promotional brochures or publications. You might find any of these items from your local historical society or preservation group, the Wisconsin Historical Society's library and archive in Madison, or your local newspaper's archives.
Be aware that many "updated" storefronts have elements like Vitrolite glass or Carrara glass that have themselves become part of the building's historic fabric. Preservation professionals in your community and the Wisconsin Historical Society staff can provide advice on restoring your storefront.
Rebuild Your Storefront Based on Traditional Designs
If you are unable to find any photographic evidence or illustrations of your building, you should base your design on traditional storefronts of the time period, or a new design that is compatible with your building's historical surroundings. Your new storefront design should be compatible with the size, scale, color, material and character of your building.
Use the following traditional storefront guidelines to design a new, compatible storefront:
Scale: Respect the scale and proportion of the existing building in your new storefront design. Make sure that the display windows are of the correct proportions and not over- or under-sized.
Materials: Use appropriate materials such as wood, brick and glass. Avoid materials such as vinyl, aluminum, stone and wood shingles on bulkheads.
Arrangement: Design your storefront in traditional patterns such as a central or side entrance with a recessed door. Use vertical elements such as frame piers to divide the entrance and display window bays.
Entrances: If you have a multi-story building, differentiate the primary retail entrance from the secondary access to the upper floors. Recessed doors are often needed to meet building code requirements.
Display windows: Use storefront glass that is clear and untinted. Traditional storefronts were designed to be as transparent as possible, so they often had polished, optically pure plate glass. The use of low-E (low emissivity) glass in a traditional storefront is not recommended and would not be eligible for tax credits. If you need privacy for an office area, consider installing curtains behind the display windows rather than applying a heavy tint to the glass.
Transoms: Design your transoms to be in proportion to the display windows below and install clear glass in your transoms.
Awnings: Consider installing canvas awnings on your windows. Canvas awnings are historically correct, and retractable awnings can help to heat and cool the interior of your building.