General Information
Zoning Regulations and Your Historic Building Rehabilitation Project
Enlarge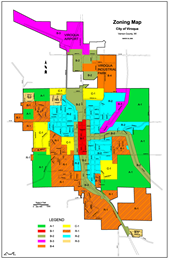 Viroqua, Wisconsin. Zoning maps such as this one divides a city or municipality into areas defined by approved uses. Source: Phil Thomason.
If you are considering an infill or rehabilitation project on your historic house or building, you will need to get familiar with your local zoning regulations. Zoning is the way your local government regulates the use of real property. Your first step is to visit your local zoning and planning departments. You can probably access online property records to find out how your property is zoned, but you might get more precise results if you visit your local planning department. You must determine the specific zoning type and regulations that apply to your property. This information will clearly define what kinds of uses your zoning allows.
You should also investigate any design guidelines that may apply to your project. When you are considering any work that might affect your building, you should consult your zoning ordinance and design guidelines before you begin any of the work.
How Your Zoning Ordinance Works
Enlarge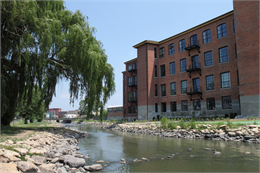 Paramount Knitting Company Mill, 1883
Beaver Dam, Wisconsin. Converting this knitting company to residential housing units required rezoning the land with the City of Beaver Dam. Source: TEAM Management, LLC. View the property record: AHI 146081
Zoning ordinances divide your town, city, village or county into separate residential, commercial and industrial districts. The purpose of zoning is to retain the unique and desirable characteristics of each type of district by regulating the use of properties in each zoning district. These regulations generally do the following:
Limit building dimensions in each zone
Require certain building features
Limit the number and location of parking and loading areas
Limit the use of signs
Provide recommendations for building additions or additional structures
Enlarge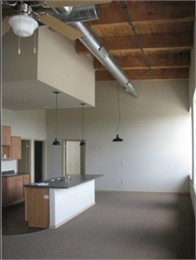 Paramount Knitting Company Mill, 1883
Beaver Dam, Wisconsin. Interior view after the rehabilitation was completed; note the exposed structure. Source: TEAM Management, LLC. View the property record: AHI 146081
Zoning does not merely regulate the structural and architectural designs of buildings within each district. It also requires consideration of future growth and development, drainage and storm sewers, public streets, pedestrian walkways, population density and many other factors that are within legislative purview. Your zoning and land use regulations will change over time, as your planning department addresses the needs of your city's projected growth and development.
The base zoning regulations of a zoning district prescribe permitted uses and other land use regulations. Historic overlay zoning does not change this base zoning; instead, it adds one more level of review if your propose rehabilitation work, new construction or demolition in a historic district. If you propose any construction work in a historic district that requires a building permit, you will first need to get a certificate of appropriateness (CoA). A CoA is granted after your proposed work has been reviewed by your local historic preservation commission.
What Your Zoning Ordinance Regulates
Zoning regulations vary from town to town, so you must become familiar with the regulations that apply to your specific building location. In most Wisconsin municipalities or counties, every parcel of land is identified as residential, industrial, agricultural or commercial. However, usually each zone has more detailed regulations than each of these basic categories. For example, each commercial zone might permit certain types of businesses but not others, depending on the part of town where it is located and its historic land use.
Zoning regulations may prescribe a type of building, location of utility lines, restrictions on accessory buildings or structures, and preservation of historical areas and buildings. Some general rules of construction apply restrictions that affect the architectural and structural design of buildings and open spaces. These rules apply to the following design aspects:
Building setbacks from the streets and other boundaries
Size and height of buildings
Number of rooms
Floor space or area and cubic feet
Minimum cost of buildings
Lot frontage
Minimum lot area
Front, rear and side yards
Off-street parking
Number of buildings on a lot
Number of dwelling units in a certain area
Regulations may restrict areas to single-family homes or to multifamily dwellings or townhouses. An ordinance may permit the construction of a building intended for nonresidential use (such as a school, church, hospital or charitable institution) in a residential district.
Typical Zoning in Older Commercial Areas
Most historic downtowns have some form of general commercial zoning. A general commercial zoning district provides for the orderly grouping of establishments that serve the needs of the larger community, such as retail stores, shops, offices and services. The area and location of a general commercial district is influenced by reasonable community need, sufficient customer potential and adequate road infrastructure.
Your zoning regulations will identify certain limitations within your general commercial district. Restricted uses can include business types that require a substantial amount of outdoor space for product storage, vehicles and other equipment. Examples include building supply yards and motor vehicle equipment sales and/or repair services. These types of businesses are not compatible with the pedestrian-oriented general commercial district, where retail shopping and offices form the core of the permitted uses.
If your building is in a general commercial district, your zoning might allow some permitted and conditional uses that will allow you to diversify your commercial building space. With a retail business on the street level, your building could also house offices, salons, hotels or apartments in the upper-floor space. Additional requirements will apply, especially for residential apartments and hotels.
Permitted Uses in a General Commercial District
Your commercial district's zoning will list the specific permitted uses. These uses can vary by city, but a commercial business district will generally allow retail shops, offices and entertainment venues. These are examples of general commercial district zoning uses:
Offices for the professions, businesses, government and utilities, studios, clinics
Retail stores and shops without limitation as to size, but involving only incidental and transient outdoor storage of goods
Banking and financial services
Hotels, motels, resorts and other overnight lodging
Theaters
Amusement or entertainment halls
Indoor commercial recreation such as bowling alleys, gyms and salons
Printing offices
Gun and bicycle repair shops
Bus depots and train depots or stations
Public garages
Conditional Uses in a General Commercial District
Your zoning regulations will also identify conditional uses in a general commercial zoning district. This list could include:
Rental apartments as a secondary use of a commercial building on other than a ground-level floor.
Care centers, such as for children or adults, nursing or convalescent centers, including hospice centers but not hospitals.
Manufacturing related to commercial uses.
Central Business Overlay District
In addition to a general commercial district, your city may also have an area zoned as a central business overlay district. The purpose and intent of this type of overlay district might read something like this:
"… to provide appropriate regulations beyond or in addition to those of the underlying district that will ensure the compatibility of the diverse uses while maximizing development potential of the downtown core."
Your zoning department will identify the boundaries of the overlay district where design guidelines are applied. The permitted uses in the overlay district will likely be a list similar to those of a general commercial district.
Typical Zoning in Historic Residential Areas
Residential areas typically have various levels of residential density. Some areas may be zoned for only single-family occupancy, while others may be zoned for duplexes or multifamily occupancy. Your residential zoning regulations will specify the following:
Allowed uses of your property, such as the number of occupants in your house and home business uses.
Lot size and setbacks, which govern the size and scale of additions to your house.
Whether you can construct an additional dwelling unit on your property, such as a guest house.