General Information
Low-Interest Loan Programs and Historic Commercial Buildings
Enlarge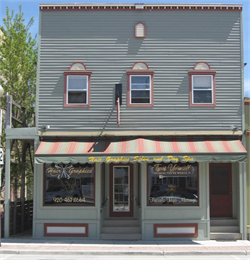 Sheboygan Falls, Wisconsin. The building at 412 Broadway in Sheboygan Falls was able to complete a building rehabilitation project thanks in part to a low-interest loan. Source: Phil Thomason.
If you plan to buy or restore an older commercial building, you might be able to get financial assistance from a low-interest loan program. Many Wisconsin communities offer low-interest loan programs as part of an effort to revitalize their downtown commercial historic districts. The below-market-rate loans offered through these programs allow property owners to purchase and rehabilitate older commercial buildings. Low-interest loans may be offered by many different entities, including community banks, municipal governments, nonprofit organizations and state agencies.
Many low-interest loan programs have been in place for several decades and have had a positive effect on downtown revitalization efforts in Wisconsin communities.
Wisconsin Main Street Program
One of the most active low-interest loan programs is sponsored by the Wisconsin Main Street Program. The Wisconsin Main Street Program is an economic revitalization program administered by the Wisconsin Department of Commerce. It is designed to promote the historic and economic redevelopment of traditional business districts in Wisconsin communities.
The Main Street Program provides one-on-one technical assistance and training to businesses in Main Street communities by facilitating private and public partnerships and helping to coordinate funding from local financial institutions. The low-interest loan and grant programs offered by the Main Street Program help local business and property owners make physical improvements to commercial storefronts in their community's Main Street target area. If your commercial building is located in a Main Street community, you should contact your local Main Street office for assistance with these programs.
Representative Loan Program: Eagle River Revitalization Program
The Eagle River Revitalization Program is a representative example of a low-interest loan program. A partnership of five banks and credit unions created the Reinvestment Loan Program. The five participating financial institutions made $500,000 available to historically preserve and restore exterior building facades. Funded projects can be used for, but are not limited to, the following types of work:
Addition of new awnings
Complete cleaning of the exterior of the building
Installation of new signs
Removal of inappropriate exterior cladding materials such as aluminum fronts
Repainting the exterior of the building
Replacement of windows and doors which meet design guidelines
Tuckpointing of masonry
The Eagle River Reinvestment Loan Program does not provide assistance for refinancing, non-fixed improvements, property purchases, inventory, equipment, equity or periodic maintenance. The program's design review committee must approve all exterior design projects according to the community design guidelines.
Loans ranging from $5,000 to $25,000 are available to qualified applicants as funding allows. The loan interest rate is the prime rate minus two percent, with a minimum effective rate of two percent. The interest rate could vary at the discretion of the lending institution depending on changes in the prime rate. The maximum term of a loan is seven years.
Low-Interest Loan Success Stories
Low-interest loans have been an effective economic tool for many Wisconsin communities and a financial incentive for many building owners. Consider the three success stories described below.
Enlarge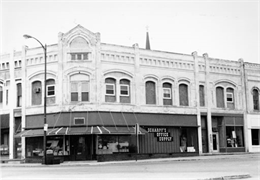 Pratt's Block, 1885
Ripon, Wisconsin. Pratt's Block prior to its rehabilitation. Source: WHS - State Historic Preservation Office. View the property record: AHI 28898
Enlarge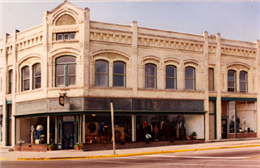 Pratt's Block, 1885
Ripon, Wisconsin. Pratt's Block after its rehabilitation. Source: Photographer Mark Fay View the property record: AHI 28898
Pratt's Block, Ripon. In 1995, Ripon Main Street, Inc. purchased and renovated Pratt's Block, a vacant building located in the heart of downtown Ripon. The organization evaluated the project's feasibility and convinced board members, public officials and local financial institutions to support the project. Local lending institutions financed the project, providing Ripon Main Street with a loan for $112,000 at a 7.5 percent interest rate over a 20-year term with no down payment. The project was completed in August 1996, and transformed the vacant building into a community asset. Ripon Main Street sold the building in 2002 for a net profit of $14,000.
Ripon Main Street's initial involvement with the Pratt's Block project has spurred the revitalization of the city's downtown district. Vacancy rates have decreased from 26% to less than 7%, as dozens of new businesses have been drawn to the downtown area. Several redevelopment projects have resulted in a property value increase from $7.3 million in 1998 to $18.7 million in 2012. Along with its aggressive approach to business recruitment, Ripon Main Street has assisted in public improvement projects, like the Watson Streetscape renovation. It has also created successful promotional events and venues, including the Village Green Concert Series, "Dickens of a Christmas," and the Ripon Farmer's Market.
Heer Veterinary Building, Platteville. Another Main Street low-interest loan for historic preservation was responsible for the restoration of the Heer Veterinary Building in Platteville. The owners purchased the building in 2006 and undertook a substantial rehabilitation. The building, essentially unchanged since it was built in 1900, had suffered significant deterioration over the years. The owners financed the project through a local bank using Platteville Main Street's low-interest loan program. They also received state and federal rehabilitation tax credits. The exterior brick was cleaned and repointed, the missing parapet wall at the roofline was replaced and the deteriorated and missing windows were replaced with new compatibly designed windows. They also restored the interior with new insulation and electrical wiring. The complete restoration cost was $127,000.
412 Broadway, Sheboygan Falls. In Sheboygan Falls, the building located at 412 Broadway was remodeled years ago, and its dated facade did not blend with the historic downtown environment. In 2006, the building's new owner consulted with the Sheboygan Falls Chamber/Main Street office to discuss possible facade improvements. The Sheboygan Falls Chamber/Main Street staff used a Wisconsin Main Street concept drawing to demonstrate the building's potential by adding new awnings and paint colors.
The Sheboygan Falls Chamber/Main Street arranged two financial incentives for the building owner:
A $14,000 Low-Interest Loan Pool loan at two percent below the prime rate for three years
A $500 facade grant for the addition of an awning
Upon completion of the project, the owner was also awarded a facade grant through the support of a local foundation. The final cost for this project was $25,000.