General Information
Grants for Your Historic Building Rehabilitation Project
As a historic commercial building owner, you might be able to benefit from certain grant programs for historic building rehabilitation by partnering with a local government or nonprofit organization. To find out if your project might be eligible, you should begin a conversation with your local Main Street program or historical society. These organizations are familiar with the available grants and their specifications. Generally, these funds will be matching grants, so you must demonstrate the availability of a certain percentage of the total project cost.
Enlarge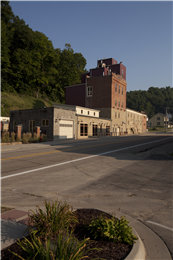 Potosi Brewery, 1852
Potosi, Wisconsin. The Potosi Brewery received two Federal Grants to aid in its rehabilitation including a Great River Road Grant and a Transportation Enhancement Grant. Source: Photographer Mark Fay. View the property record: AHI 17015
Some grants may be used to stabilize your building, pay for consultant services or assist with rehabilitation work. You may be able to hire a professional for certain services such as:
A preservation architect to produce a historic structure report for your building.
A preservation planner to produce guidelines for restoring your building façade .
A real estate development consultant to produce an economic feasibility study for the reuse of your building.
Two possible sources of planning grants for the restoration of a historic commercial building are the National Trust for Historic Preservation and the Jeffris Family Foundation.
Grants from the National Trust for Historic Preservation
The National Trust for Historic Preservation, a privately funded nonprofit organization, works to save America's historic places. The Trust offers financial assistance for a wide variety of projects through its Preservation Services Fund. This fund offers matching grants to nonprofit organizations and public agencies for professional consultant services, historic preservation education programs and conferences. In 2012, the Trust awarded over $3.9 million in grant funding to 225 projects nationwide. The majority of funding is awarded for planning and education projects.
Matching grant funds from the National Trust Preservation Funds encourage preservation at the local level by providing seed money for preservation projects. The funds may be used to obtain professional expertise in areas such as preservation planning and land-use planning, as well as to provide preservation education activities to educate the public. These grants are meant to enable local groups to gain technical expertise needed for particular projects and encourage financial participation by the private sector. As a general rule, the Trust does not fund acquisition or construction costs.
The cash-match for one of these grants can come from any of these sources:
A grant from a foundation or other grant-making organization other than the National Trust
Funds raised from local support
Any other revenue source
Grants are awarded annually in three competitive rounds: February 1, June 1 and October 1. These matching grants usually range from $2,500 to $5,000. Grant programs are always subject to change, so check with the National Trust for current information about these grant programs.
In 2012 the National Trust provided grant funding for several projects in Wisconsin. These included $5,000 for a building usage feasibility study for the Israel Stowell Temperance Tavern in Delavan. The building had fallen into a serious state of neglect and was condemned. The building owner approached the Delavan Historical Society, who partnered with the owner to secure the grant. For more information on the application process, contact the National Trust for Historic Preservation.
Grants from the Jeffris Family Foundation
The Jeffris Family Foundation encourages the preservation of Midwest history by providing financial assistance through the Jeffris Family Preservation Services Fund. This fund provides grants for Historic Structures Reports and preservation planning to non-profit organizations and public agencies in small cities and towns. The Jeffris Family Foundation seeks to support the development of regionally and nationally significant historic sites. The Foundation also supports decorative arts projects related to Midwestern history and culture. One of the foundation's programs is the Heartland Fund. This program offers a dollar-for-dollar matching grant from $5,000 to $50,000. Donated materials and volunteer time are not eligible sources for this match. Applications are due February 1, June 1 and October 1 of each year.
The Jeffris Family Foundation also offers the Capital Campaign Challenge Grant by invitation only. Invitees are typically selected from the pool of applicants who have completed preliminary projects via the Heartland Fund. However, the foundation may invite others to apply. The application for this grant requires the applicant to provide a planning study detailing cost estimates and recommended treatment of each element of the historic resource. Challenge grants are made in the amount of $50,000 to $1,000,000 on a 2:1 basis. This means that the applicant must raise two-thirds of the funding, matched by one-third from the challenge grant. The recipients of this grant have three years to raise the matching funds. Match funding can come from individuals, businesses or foundations.
Enlarge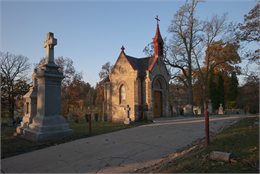 Little Chapel, 1900
Janesville, Wisconsin. The Little Chapel in Mount Olivet Cemetery located in Janesville. Source: Photographer Mark Fay. View the property record: AHI 50034
The Little Chapel in Mount Olivet Cemetery in Janesville, owned by the Archdiocese of Madison, benefitted from one of these challenge grants. The 1900 building incorporates Gothic and Romanesque Revival styles. A grant from the Jeffris Foundation, combined with a contribution from J. P. Cullen & Sons, a private construction corporation, allowed for stained glass and masonry repairs, as well as plaster and tile restoration.
The Potosi Brewery also received project funding from the Jeffris Foundation. Founded in 1852, the brewery ceased operations in 1972, and a fire destroyed many of the site's buildings. In the 1990s, a new owner acquired the brewery at auction and began its repair. With a small group of friends, the owner formed the Potosi Brewery Foundation in 2000. With a grant from the Jeffris Foundation and overwhelming community support, the brewery re-opened in 2008. In addition to operating a restaurant, pub and specialty brewery, the building houses the National Brewery Museum and the Potosi Brewery Company Transportation Museum.