Historical Essay
Travel and Tourism
The Invention of a new Pastime
Enlarge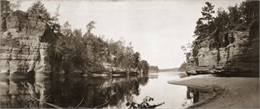 Jaws of the Wisconsin Dells, 1894
Panoramic view from shoreline of the Wisconsin River in the Wisconsin Dells. A sandy beach area is on the right, and rock formations are on both sides of the river. In the lower right hand corner are the words "JAWS OF THE WISCONSIN DELLS. Copyright 1894. by H.H. Bennett." View the original source document: WHI 64331
Industrialization and urbanization in the 19th century made cities more fast-paced and alienating than ever before. Many Americans sought refuge from city life in the countryside. Railroads and steamships made travel cheaper and more accessible than ever before. People began travelling the country and the world. New businesses and services soon emerged to cater to this new class known as "tourists."
Kilbourn City, later named Wisconsin Dells, was one of the state's first areas that catered to tourists. Increase Lapham led an expedition there in 1849. He kept a diary with detailed descriptions of the geology and flora of the city. After a railroad was installed in 1856, more people than ever travelled to Kilbourn. Trains brought travelers to the city from all over Wisconsin. Within less than a year, the Wisconsin Mirror's Alanson Holly wrote, "we conclude that the wild, romantic scenery of the Dells will always make them a place of resort for seekers of pleasure."
Henry Hamilton Bennett
Enlarge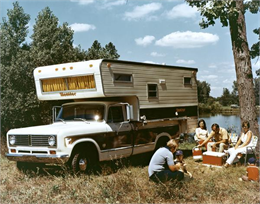 Camping with International, 1972
Color advertisement of a family camping near a lake with an International 1310 pickup truck and a Monitor camper. View the original source document: WHI 25646
Despite the city's idyllic scenery, tourism was not a major industry in the Dells until Henry Hamilton Bennett's photographs were published in the 1870s. Visitors were soon eager to see the exquisite rock formations along the Wisconsin River that Bennett had photographed. People began visiting the Dells from Chicago, Milwaukee, Cleveland and Pittsburgh. Hotels, parks and many other attractions appeared faster than ever. Wisconsin Dells soon became the state's most popular vacation destination.
Cars
As Americans began driving cars in the 1920s, revenue from tourism helped northern Wisconsin recover from economic depression. A 1922 highway census revealed that more than 3,000 automobiles passed through Rhinelander. That fall, businessmen organized the Northern Wisconsin Resort Association to improve available services and encourage tourists to visit the area.
Campgrounds
Because they were not bound to train schedules and stops, tourists began camping on the side of the road instead of staying at hotels. Farmers and communities were annoyed by motorists who stayed on their roads and left trash along the highway. To alleviate the problem, cities began providing free campgrounds with ovens, community houses and bathrooms. Most cities soon began charging fees for campgrounds. Shortly thereafter, private campgrounds outnumbered municipal sites and offered higher quality services.
Learn More
Explore the Turning Points in Wisconsin History Collection
[Sources: The History of Wisconsin vols. 3 and 4 (Madison: State Historical Society of Wisconsin); Kasparek, Jon, Bobbie Malone and Erica Schock. Wisconsin History Highlights: Delving into the Past (Madison: Wisconsin Historical Society Press, 2004); "History and Origin of Wisconsin Dells, Wisconsin!" Dells Visitor and Convention Bureau ]